May dwelling consents up strongly in Canterbury, but down in Auckland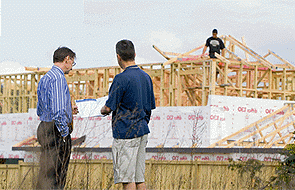 The number of new dwelling consents issued in May was up 2% on those issued in April, mainly driven by a surge of new consents in Canterbury.
There were 2,125 dwelling consents issued in May, compared with 2,082 in April and 1,971 in May last year, according to Statistics NZ.
Most of the growth came from Canterbury, where 605 consents were issued, up from 554 in April and 494 in May last year.
In Auckland the number of consents declined to 611 in May (including 109 apartments), compared with 697 in April and 628 in May last year.
That will do little to ease the region's housing supply, which is coming under increasing pressure from population growth and surging immigration numbers.
Within the Auckland region, there were sharp drops in the number of consents issued for the North Shore, Waitakere  and Manukau areas, compared with the previous month, while the number of consents issued for the Central Auckland district almost doubled.
Consent numbers were also down in Wellington, where 123 consents were issued in May compared with 149 in April and 102 in May last year.
They also fell in the Waikato, to 192 in May compared with 261 in April and 240 in May last year.
On a month by month basis, numbers were up strongly in Otago, to 145 in May compared with 91 in April, and the Bay of Plenty, 133 in May compared with 89 in April.
Statistics NZ said the number of new dwellings consented in  May was at its highest level since September 2007 but the trend had been flattening in recent months and was still below the peak it hit in 2004.
The total value of building work consented in May was $1.2 billion, including $842 million of residential construction and $370 million of non-residential buildings.
Housing minister Nick Smith said the Christchurch figures were particularly encouraging because the number of new dwellings consented in Canterbury was the highest on record on both a monthly and annual basis, confirming that the rebuild of the city's housing stock was moving with pace.
However he conceded more needed to be done to meet the housing shortfall in Auckland.
"Cabinet today gave final approval to the third tranche of Auckland's Special Housing Areas, which I announced early last month together with mayor Len Brown.
"This will allow for them to be gazetted on Thursday and brings the total number of Special Housing Areas under the Auckland Housing Accord to date to 63, with a potential yield of 33,500 homes across the city," he said
A fouth tranche is planned for August.