Augusta launches a king sized syndicate with princely fees to match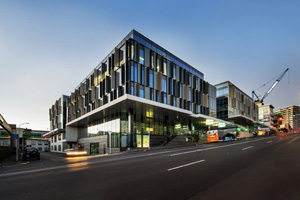 NZX-listed Augusta Capital (though its subsidiary Augusta Funds Management) has launched its latest property syndicate and it's a whopper.
Augusta is seeking to raise $39 million from investors to put together a syndicate which will acquire one of the three buildings that form Telecom's head office complex on Victoria St in Auckland's CBD.
The syndicate is being structured as a proportionate ownership scheme and will acquire the property for $65.2 million, with investors putting in $39 million and the balance being provided as a mortgage by ASB.
The scheme has many features that are likely to appeal to mum and dad investors, especially retired folk seeking a regular income.
It is forecast to pay a pretax cash return of 8% a year, with distributions to be paid monthly.
Other features likely to appeal to investors are that it is a high quality, modern building with a long lease to a blue chip tenant.
The building is leased to Telecom New Zealand, a subsidiary of NZX-listed Telecom Corporation, with separate leases covering the office space and car parks and some additional income coming from naming and signage rights.
These will all have just under 10 years to run from the scheme's anticipated settlement date of October 1, and provide for the rent to increase by 3% a year, providing the scheme with steady rental income growth.
The leases give Telecom two rights of renewal of six years each and if it exercises those rights and renews the leases on their initial expiry in May 2024, the rent will be reviewed to market rates at that time.
The property is also being purchased at a $1.8 million (2.7%) discount to its $67 million valuation.
The interest rate on the mortgage from ASB has been fixed at 5.5% for the first three years via an interest rate swap arrangement.
Strata title
However there are also other factors which investors will need to consider when deciding whether or not the scheme is for them, such as the fact that the building it is on a strata title.
But one of the most important points to consider is the high level of upfront costs involved in setting up the syndicate.
Property syndicates tend to have fairly high establishment costs relative to their size but the costs on this scheme have been boosted by substantial  offeror's and underwriting fees.
Augusta Funds Management will receive an eye watering $2.02 million as an offeror's fee for setting up the scheme.
The offer is also fully underwritten, partially by Augusta Capital and partially by Cypress Capital, a company associated with Peter Francis who is the father of Augusta Capital's managing director Mark Francis.
Between them Augusta and Cypress will receive $1.365 million for underwriting the offer.
The next biggest cost facing the scheme is the brokerage of $780,000 which will be paid to the scheme's exclusive marketing agents Bayleys Real Estate (assuming they sell down all 780 investor interests on offer).
Added together, those three sets of fees account for 91% of the scheme's total set up costs of $4.583 million.
Because that money is paid out in cash at the scheme's commencement, it reduces reduces the investors' equity.
In this case the effect of the high fees on equity is moderated by the fact that property is being purchased at a discount to its valuation.
But even at the property's valuation of $67 million, investor's initial net asset backing will be 92.9 cents for every dollar they invest.
If investors choose to use the property's purchase price as a measure of its worth, net asset backing would be 88.2 cents for every dollar invested.
So there's a lot riding on Jones Lang LaSalle's valuation of the property.
Over rented
The valuation report also states that the property is over rented.
"The passing rents reflects an overall rate of $581 per square metre of NLA [net lettable area] which is considered to be above our opinion of market rates," the valuation report said.
It said the property was generating net rental income $4,725, 993 plus GST a year, compared to Jones Lang LaSalle's estimate of market rent at $3,860,440 plus GST.
That suggests Telecom is paying a 22% premium above market rates in rent.
 So the property will have to work hard to add value for investors.
However syndicates are usually set up as long term investments.
Investors will (hopefully) get their capital back when the property is sold and the scheme is wound up, less selling and associated expenses.
If it has increased enough in value they will make a capital gain. If not, they could suffer a loss.
But there is no way of knowing when that will happen.           
Like most property syndicates, this scheme does not have a termination date and will be wound up when 75% of investor interests vote in favour of doing so (investors get one voting interest for every $50,000 they invest and can own more than one interest and therefore cast multiple votes).
So investors should be prepared to be involved for the long haul.
See our beginners guide to property syndicates here and our previous story on Augusta's syndication of the Telecom building here.