Bayleys expects a surge of land suitable for housing to start coming on to the market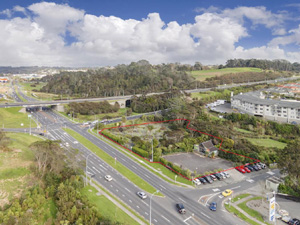 Bayleys Realty is predicting that the stream of land suitable for large scale housing developments coming on to the market in Auckland is about to turn into a torrent.
Bayleys said it has just listed for sale four substantial subdivision sites which between them had the capacity to accommodate hundreds of new dwellings and this was the start of a trend.
Bayleys senior research analyst Ian Little said the four sites, a 90 hectare property in Redvale, a 4300 square metre site at Albany with zoning that allowed one dwelling per 200 square metres, a 4.2ha property near Pukekohe and a 3694 square metre site in residential Papakura that could be redeveloped for terraced housing, represented a a clear trend in the escalation of Auckland's urban expansion, with developers seeking large land blocks on which to build mid-size and large scale residential projects.
"Developers are keen to be involved in the wave of residential development identified under the Auckland Housing Accord," Little said.
"However large landholdings within the just announced 80 Special Housing Areas identified under the Accord are limited.
"As a result, other vendors with landholdings elsewhere on Auckland's urban fringe have taken advantage of the opportunity by offering alternative locations suitable for large scale residential development.
"We're not talking four or five houses on a couple of quarter acre plots but many hundreds of dwellings."
Little said he expected the four plots being sold would attract interest from developers who would get the necessary consents from council to subdivide the land and then on-sell the smaller sections and from established building companies looking to sell house and land packages.
He believed construction of new homes on the properties could be underway by mid-2016.
----------------------------------------------------

Our new free Property email newsletter brings you all the stories about residential and commercial property and the forces that move these huge markets. Sign up here.
To subscribe to our Property newsletter, enter your email address here. It's free.
----------------------------------------------------------------------------------------------------------------------------------------