New Housing NZ Minister Bill English plans to ramp up Housing NZ sales to accelerate social housing reforms and boost affordable housing supply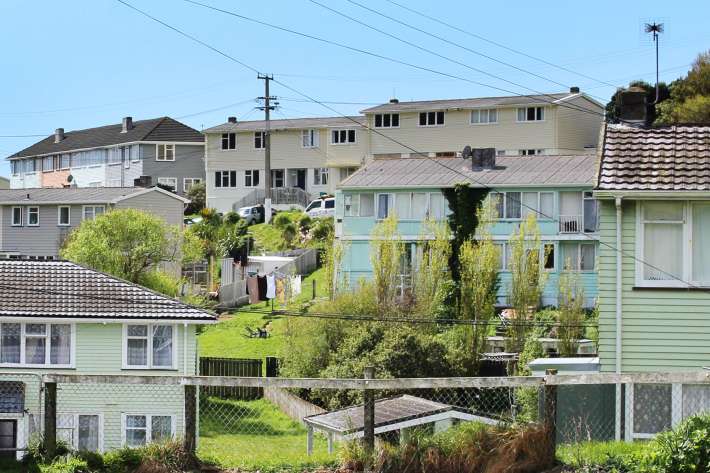 By Bernard Hickey
New Housing NZ Minister Bill English is pushing ahead with reforms to the Government's NZ$18.7 billion stock of state houses that he hopes could ramp up the development of social housing by Iwi and other community-owned housing providers to address a massive shortage of affordable housing.
The reforms could see billions of dollars worth of state houses and land sold to Iwi and community groups that use hundreds of millions of dollars of state subsidies for social housing to fund the redevelopment and expansion of affordable housing. Valuing those state housing assets and then financing those redevelopments privately, possibly through banks and pension funds, will be the major challenges.
English compared the plans to redevelop the sector to previous ones by Labour and National governments in nursing care and early childhood education, which saw community and private sector groups use steady streams of Government payments for services to finance and build up their assets.
English said in an interview on Friday that a combination of reforms in the Social Housing Reform Act passed last year and the move of social housing assessment from Housing NZ to MSD earlier this year had laid the groundwork for the shift.
He pointed to the NZ$710 million worth of Income Related Rents (IRR) that are currently paid through the Ministry of Social Development to Housing NZ Corp, but which are being opened up for Iwi and other community groups such as the Salvation Army and Presbyterian Support Services to bid for and finance their own stocks of social housing.
"We've got to find a more responsive system that's not capital and construction heavy for the Government," he said.
Housing NZ would remain the largest provider of social housing, but English envisaged a major increase in the the 'third' sector of community and other groups, some of whom would be able to buy and redevelop land current used for state houses.
English said around a third of Housing NZ houses were in the wrong place, were the wrong size or the tenancies were mis-matched. An Independent Transactions Unit (ITU) had been created to value those homes for possible sale to community housing providers.
English said he expected the Government to be in position to begin selling houses in the first quarter of 2015, although in many areas consultation with Iwi groups would have to be completed before any sales could be made given the land was subject to Treaty of Waitangi clauses granting Iwi Right of First Refusal (RFR) when Crown land is sold.'
He said Iwi and financiers had already approached the Government about the potential to buy the land by using the IRRs to finance and operate new housing developments.