A do up in Avondale sells for $870,000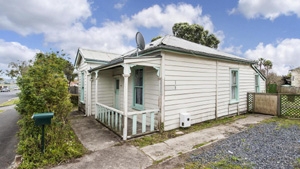 An old dunga of a house in the Auckland suburb of Avondale sold under the hammer for $870,000 at auction today.
Both inside and out, the house at 15 Elm St was pretty rough. It would have needed a full renovation to bring it up to what most people would have regarded as an acceptable standard, which would easily have pushed the price past the $1 million mark once the work was complete.
The property had a 2011 rating valuation of $520,000 and according to QV.co.nz it was last sold for $410,000 in 2007.
It had recently been rented out at $400 a week but was offered with vacant possession.
There were around half a dozen hopeful buyers bidding on the property when it was put up for auction at Bayleys Viaduct Harbour auction room and the auctioneer didn't have to wait long for the opening bid of $500,000.
From there bidding rose quickly until one bidder had seen off the competition with the winning bid of $870,000.
The property is well located not far from Avondale College and there's no doubt it could be turned into a comfortable family home if someone was prepared to invest time and money in it.
But the main attraction was undoubtedly the land and its zoning.
The house sits on 653 square metre section and according to Bayleys the land is zoned Residential 7B which allows one dwelling per 200 square metres of land.
So the section could potentially accommodate three dwellings.
On top of that the site will fall within a special height zone under the Auckland Council's proposed Unitary Plan, which would allow buildings up to 20.5 metres high, enabling multi level town houses to be built.
Avondale is a mature suburb and has traditionally been regarded as working class.
Many of its residents will be retired folk living in homes similar to this one.
If their sections are able to be subdivided, they could be sitting on their own little gold mines.