Cam Preston is watching the slow settlement progress of Southern Response and the growth of its liability to the taxpayer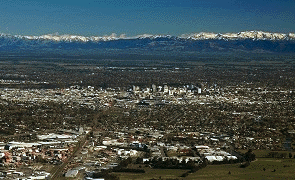 By Cameron Preston*
Last year I penned an article in which I voiced concern over Government-owned Southern Response's performance.
More than a year on it was with interest that I read that they seemingly continue to underestimate their claim liability.
On Friday Treasury released its updated financial statements for the three months ended 30 September 2014.
The result was $79 mln worse than forecast.
Treasury stated "The key driver of the OBEGAL variance movement was Southern Response ($76 mln), as a result of their updated actuarial valuation of the claims liability".
$76 mln is a relatively an insignificant amount, however in the year of the 'wafer thin surplus' it has added significance.
Last year I noted the rise in Southern Response's claim liability to $2.1 bln.
Since then it has increased further to $2.4 bln, and according to Treasury's statement is continuing to climb north.
Why?
Firstly the pace of Southern Response's claim settlement is slow, with the rate of new claim arrivals (from EQC) only barely outpacing the resolution of existing claims: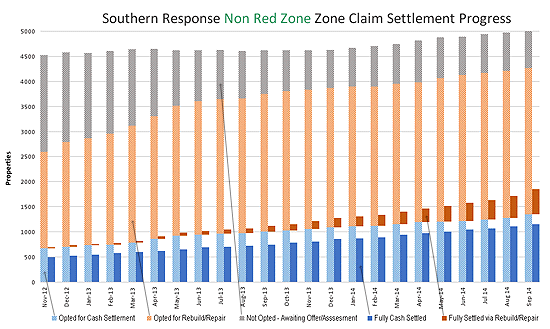 While technically this slow settlement speed places Southern Response in breach of the conditions of its government guarantee, no one, including claimants wants to see them lose that support.
Given the Government has also had the benefit of $580 mln of AMI's investments in the form of Treasury bills since April 2012, I can understand the lack of any real push for progress from Southern Response's Shareholding Ministers.
Secondly, Southern Response is finally beginning to experience the actual cost of residential construction in modern New Zealand.
While it has only rebuilt a total of 369 new homes in Canterbury to date, the actual cost of those new homes is being fed back into their actuarial models – and it is not pretty.
Evidence I have been provided with shows an average cost to rebuild an average home with Southern Response is approximately $500,000 incl GST, excluding land.
And that is simply the average, with many homeowners (especially in the less accessible Port Hills areas and land damaged 'TC3' areas) telling me their rebuild costs are in the millions.
These are much higher than Southern Response estimates.
Thirdly, as Southern Response drains the last of its reinsurance, it seems to have overestimated the value of some of those reinsurance contracts.
In the last financial year alone $37 mln of reinsurance expense was recognised.
A further $140 mln of reinsurance receivable sits on its balance sheet at present, unrecovered but also currently unimpaired.
Lastly, Southern Response's claim handling costs continue to escalate.
The number of employees earning more than $100,000 pa has increased from 16 in 2013 to 29 in 2014, with its CEO earning a modest $540,000 pa, despite assurances it is in wind-down mode.
Not to mention all their expensive subcontracted 'project managers' and consultant 'experts' continuing to endlessly re-assess properties.
The result of all these factors is that of $1 bln of taxpayer funding the government estimated at the time of the bailout, over $900 mln can be accounted for in these costs.
An early sale of AMI's customers to IAG has given the crown company an additional $245 mln of breathing space.
Taking that into account, the current estimated cost to the taxpayer sits at $658 mln but rising.
Claimants continue to be appreciative of taxpayer support.
But taxpayers need to be aware Southern Response's claim liability will continue to increase.
Claimants can't and won't be held responsible for Southern Responses continuing low estimates of damage or the time they are taking to settle claims.
-------------------------------------------------------------------------------
Cameron Preston is a Christchurch homeowner who has longstanding unresolved quake insurance claims.