Fitch picks lower NZ house price growth but is confused about our flag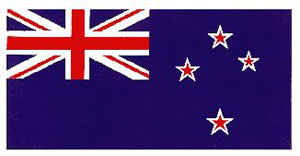 Updated with comment from Fitch about misrepresenting the New Zealand flag.
International credit rating agency Fitch Ratings expects annual New Zealand house price growth to moderate to 2.5% this year.
In its Global Housing and Mortgage Outlook report for 2015, Fitch said a number of factors would reduce house price growth as the year progressed.
"Fitch expects that the rate of house price growth will moderate to around 2.5% as the Official Cash Rate is expected to increase to 3.75% in 2015," the report said.
"Growth rates in Auckland and Christchurch will  also continue to slow with the Housing Accord fast tracking housing developments in Auckland, and the gradual replacement of severely earthquake damaged homes in Christchurch reducing the housing supply shortage.
"The temporary LTV [loan to valuation ratio] restrictions are expected to be lifted once housing market pressure has fallen."
Fitch said it expected mortgage interest rates to rise to between 7% and 8%, which it said was in line with the long-term average.
Although there was likely to be ongoing affordability issues in Auckland and Christchurch, where house price gains had been strongest, Fitch said it expected the number of impaired loans to rise only marginally, to around 0.7% this year and 0.8% next year.
However Fitch may not understand the New Zealand market quite as well as the report suggests.
Within the report, Fitch has included the national flags of each of the 22 countries it has reported on, apart from New Zealand's.
Instead of our national flag with its Southern Cross on a blue background, Fitch has used the flag featuring a silver fern on a black background which is often waved at sporting events.
Fitch Australia associate director media & communications Iselle Gonzalez,  said the substitution was deliberate, "to ensure there was no confusion with the Australian flag."
So perhaps in its next report Fitch will replace the Australian flag with something else, perhaps an image of kangaroo or a can of Fosters, to ensure there's no confusion with the New Zealand flag.