Construction giant Fletcher Building spends a further $57 million on land purchases for housing development; sees future profits from housing as much higher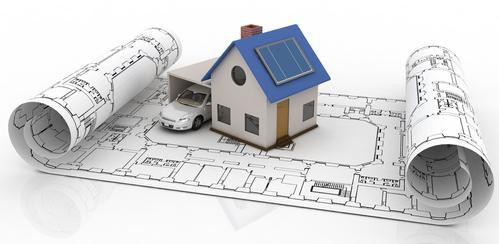 By David Hargreaves
Construction giant Fletcher Building has been splashing the cash as it accumulates what its managing director Mark Adamson is now describing as a "massive land bank", particularly in the Auckland area.
Fletcher Building's cashflow statements for the half year to December show that in the period the company forked out $57 million for residential land holdings. In the previous whole year Fletcher had shelled out just $28 million on land purchases.
In the latest half year the company's housing operations recorded an 18% increase in operating earnings to $33 million.  The company's now expecting that a previously anticipated fall in full-year housing earnings of around $15 million from last year's $49 million won't eventuate and the profits in the housing area will actually be up for 2015 financial year.
While the company last year abandoned tentative plans to look at manufacturing prefab houses, it is pushing ahead with plans to treble its house sales over the next three years - from an earlier rate of about 300 units a year to about 1000.
Bright spot
The housing division earnings were a notable bright spot in an overall result that saw Fletcher's net profit after tax slip to $114 million from $154 million after write-downs in the value of some of its businesses.
Fletcher's housing earnings have been underpinned in the recent past by its its development of bespoke homes on the old Stonefields quarry in suburban Auckland.
The profits from the Stonefields development were seen as winding down, but Fletcher Building now thinks they can be continued for the next 18 months, helping to underpin earnings.
"We have managed to carve out further deals with the [Stonfields] developer for further developments," Adamson said.
"We are looking to increase margins by developing different types of topography, as they call it – terraces and townhouses rather than single family dwellings. So less moving the price and more moving the margin because of the nature of what we are building down there – and they have been quite clever with that.
Showing through
"And they think that will have another 18 months albeit at a lower rate – by which time some of the developments that we've acquired more recently will start to show through in earnings."
Adamson, who has been at the helm of Fletcher Building for the past two years, said that the Stonefields development had been previously "something of a one-off" for the company.
"Fletchers wasn't really a serious residential developer," he said.
"Fairly early on in my reign I recognised that was something missing in our portfolio.
Investing heavily
"We have invested heavily in a land bank – [but] that doesn't tell the full story because a lot of the land we have purchased we have done so on a contingency basis or a pay when we build basis…
"So, we have a massive land bank now compared to previously [when] it was just Stonefields [which] did have a finite life.
"The guys we've brought into residential have done a fantastic job, I have to say, and it now looks as if we will not have that dip and that as Stonefields rolls off we will have a multitude of developments in both the North and South Islands that will take the strain in terms of earnings – and indeed grow earnings beyond the peaks of Stonefields."
In its half-year announcement, the company said "a number" of major consent processes were underway, including the redevelopment of the quarry at Three Kings in Auckland, Manukau Golf course and a number of Special Housing Areas in Auckland. In Christchurch, agreement was reached with the government to build over 200 residential properties, and further opportunities to work with the government on future housing developments were being pursued.
'Bow wave of demand'
"There does seem to be a huge bow wave of demand for housing and better quality housing in New Zealand and the product offer that we've set up – and it's almost a new business unit because Stonefields was somewhat of a one-off – tries to cater to those segments in the market because all those segments will come and go at different phases," Adamson said.
He said he didn't expect that there would be a boom and bust in the current housing cycle.
"I think we are getting toward the peak [of the current cycle], partly because of some constraints around land but I think where I'm positive is that it's liable to be a peak that is sustained longer than possibly usual – I'm certainly looking out two to three years – and we are land banking cautiously but on the basis of a reasonably good prognosis through the next two to three years."
Asked by an analyst about the company's ability to replace annual earnings of around $40 million from the Stonefields project, Adamson said Fletcher Building had the ability to "generate a lot more profit" from its housing activities in coming years.
Higher profits
"The profit from Fletcher Residential in future will be a lot higher than we ever made out of Stonefields – albeit it will be because we are building a lot more houses."
Asked about the main geographic focus for the company with future developments, Adamson said Auckland was the "predominant area that we are focusing".
"A lot of that focus is around the North Shore, western Auckland and south of Auckland where we have three or four developments that we are working on."
Asked about recent comments in a speech by Reserve Bank Governor Graeme Wheeler that "much more needs to be done, especially in creating opportunities for residential construction in Auckland central", Adamson said there seemed to be a very strong political consensus across the spectrum from left to right from local to central government that housing is an issue.
"They have a core of similar philosophies around how to address it, albeit there are certain divergences. I think the move Auckland made a few years ago from eight councils to one has helped. I think the legislation the Minister Nick Smith has championed around Special Housing Areas is a very positive one to more efficiently move developers through the consenting pipeline.
Sensible moves
"I think it is very difficult for me to sit here and criticise anything that the legislative bodies are doing. They all seem to have this issue top of their priorities and are making some fairly sensible moves.
"I think it is now down to the developers and constructors to take those opportunities and like Fletcher Living has done and a number of other large builders that we enjoy relationships with, start to expand their offer."
Asked if there was anything more he would specifically like seeing done, Adamson said: "I think talking macro – 20 to 30 years out – it is very difficult to build houses without infrastructure. 
"If you look at Auckland at the moment, everybody who buys a house has that drive into work on a morning, and decides whether they are going to buy the house based on whether they want to spend an hour in the car, or an hour and a half in a car or two hours in a car. I think that limits exactly how far north, west and south you can go from any major city.
Invest in infrastructure
"Therefore I think the longer term driver – because this is a long term problem for a country like New Zealand, which has a very positive prognosis for population growth – is to invest in infrastructure and continue to do so.
"I think governments of both persuasions here in recent years have got a commendable record – albeit I think the statistic is that New Zealand has the second lowest number of motorway miles per head of population after Turkey, I think.
"So there's still a lot we can do, the topography here is difficult and expensive, but things like the tunnel that we are building from the airport into town, linking Hamilton to Auckland and further developments the government is talking about north of here certainly bode well in terms of being able to increase the accessibility to people's employment in major conurbations like Auckland."