Building and Housing Minister details first four Govt land sites in Auckland to be sold to developers to build 600 homes; sees first homes built by late 2016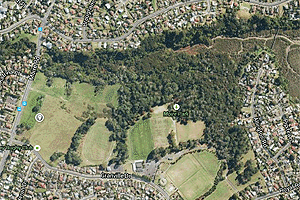 By Bernard Hickey
Building and Housing Minister Nick Smith has listed the first four areas of Government-owned land in Auckland to be offered to developers to build new homes.
The four sites covered 30 hectares and could be used to build 600 new homes, Smith said as he launched a broader plan announced in Budget 2015 to offer up to 500 hectares in Auckland for development.
Smith detailed the four sites at a function in Auckland that invited expressions of interest from developers and buildings, including from Australia.
The most advanced site was at the corner of Moire and Granville Roads in Massey and included 10 parcels of land totaling 9.5 hectares. It already had access to water and waste infrastructure and had the capacity for 200 homes, Smith said. The land was originally set aside for a school, but another site at Hobsonville was eventually used.
Cabinet had agreed the Government could buy the Massey land from the Ministry of Education and formally notified it for housing use under the Housing Act of 1955, which supersedes any need to offer the land up to Iwi under right of first refusal provisions in the Treaty of Waitangi.
Smith also detailed three other areas of land owned by the New Zealand Transport Agency (NZTA) that could be used for a further 400 homes, although they had yet to be formally assessed for their infrastructure needs and commercial viability.
One site was next to a motorway in central Manukau and could be used for apartments and townhouses, while another was near a train line in Avondale and had previously been designated for the Water Connection trench, which was now a tunnel.
A third site was at Brigham Creek Road, just off the Upper Harbour Motorway.
Smith said the sites were part of a broader plan to offer up to 500 hectares to developers, who would build homes and sell them, often paying for the land once the homes were built and sold to home owners.
The Government set aside NZ$52.2 million in a contingency fund to launch the programme and buy land from Crown agencies where necessary. The percentage of homes being built in the affordable range below median house prices would vary from site to site, Smith said.
Smith detailed the sites in a launch event after a bus tour of various Government-run house building and redevelopment sites and vacant land in Auckland.
"This new initiative is not a silver bullet, but a further step in our plan to improve housing supply and affordability in Auckland," he said.