Getting renters' rights up to German standards dubbed a key stepping stone to cooling the housing market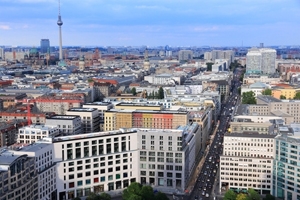 There are calls for New Zealand to take a leaf out of Germany's book, and create a more secure environment for people to rent homes, and landlords to manage them.
Shamubeel and Selena Eaqub have proposed the idea in their new book, Generation Rent: Rethinking New Zealand's Priorities'.
The New Zealand Institute of Economic Research principal economist and his wife – a stay-at-home mum who's previously worked for GoldmanSachs, JBWere, the Reserve Bank, and Statistics New Zealand – argue that creating more certainty in the rental market is one of the things that can be done to help calm the unruly Auckland housing market.
They say doing as the Germans have done, and improving the quality of life for renters, will ease the pressure on people to enter the property market, and thus ease the pressure on demand and property prices.
The Eaqubs argue it's a matter of tightening tenancy laws and getting people to change their perceptions of renting, so renting is no longer deemed something only people who can't afford to buy, do.
With 57% of Aucklanders living in houses they don't own, the Eaqubs say the impact renters have on the economy can't be overlooked.
'Generation Rent'
In 'Generation Rent', they write, home ownership "peaked in the early 1990s, when just over three-quarters of the adult population owned their own home. Home ownership has since been falling, and by 2013 just under two-thirds of households lived in a non-rental property.
"If one looks at individuals rather than households, just over half of all Kiwis now live in a rented home."
While the fall has been most dramatic among those born after 1980, home ownership rates have fallen across all age groups.
If housing continues to be as unaffordable as it is, the Eaqubs see this shift towards renting continuing.
"If household incomes continue to rise at their historical rate of 3.5% per year and house prices rise at the 8% a year that investors expect, mortgage payments will be a staggering 80% of a young couple's income by 2020 – and more than their annual income by 2031."
The Eaqubs look to Germany for some solutions to improving the rental market in New Zealand.
Its rental rate is the second highest in Europe, at 57%, while in Berlin, 90% of people rent.
Germany's rental market is so regulated; new legislation has just this week been passed, which bars landlords from increasing rents in Berlin by more than 10% above the local average rate.
Such controls were already in place for existing tenants, but have now been extended to new contracts, as authorities try to put some brakes on some of the fastest rising rents in Europe.
As for the rest of Germany, landlords aren't allowed to increase rents by more than 20% over three years.
The Eaqubs say, "For landlord-tenant relationships to succeed, there need to be rules clearly defining what is required from both parties when it comes to the operational, day-to-day aspects of renting.
"This includes the expectations of both parties – for example, what state the rental property should be in, how quickly and what type of repairs should be done, or what state the tenant should leave the property in when they vacate it."
The situation in New Zealand
The Eaqubs outline the rules around renting in New Zealand as follows:
"Leases currently tend to be short term, with more than half of tenancies lasting only 10 months. In comparison, owner-occupiers spend an average of seven years in their home.
"Short-term leases can make tenants feel insecure in their rental properties and, ultimately, make it difficult for them to feel at 'home'.
"In New Zealand, rental agreements can be either periodic or fixed-term agreements, with periodic the most common. With a periodic lease, a landlord can give 90 days' notice to remove a tenant from the premises, but this can be shortened to 42 days if the landlord sells the house or needs it for the use of a family member or an employee.
"On the other side of the ledger, if tenants want to move out, they only have to provide 21 days' notice under a periodic lease agreement. This does not leave much time for landlords to fill the vacant property.
Adding fuel to the fire, they point out that most amateur investors in New Zealand are motivated by capital gains, rather than the income from rents.
"Around 41% of landlords in New Zealand are accidental landlords who do not even know what features tenants may be looking for.
"They differ from professional landlords and institutional investors, who buy future rental income and hold on to properties for a long period – and are more focused on tenants' needs."
The Eaqubs say, "New Zealand's tenancy laws may have been suitable when they were first made, when renters were mainly young people who did not require as much security of tenure.
Today, however more families and elderly people, who need more stability and are less able to up-and-go, are renting.
The situation in Germany
In Germany, rental properties are provided by both amateur landlords and institutions, with the former owning 60% of rented housing units.
The Eaqubs say, "Landlords must give between three and nine months' notice to evict a tenant, and can only do so with good reason. The amount of notice needed increases the longer the tenant has lived in the property. Landlords must also have a very good reason to evict a tenant."
They say German laws don't enable property speculation in the same way as New Zealand laws do, in the sense that landlords can't quickly flick off their rental properties to take advantage of higher house prices.
It is for these reasons that "German house prices have barely kept pace with general prices since 1990".
German renters are also encouraged to make their places feel like home. Pets are allowed and minor alterations are permitted and considered normal.
The Eaqubs say, "When renting in Germany, tenants are essentially paying for the shell of the building; even light fittings are not necessarily provided".
What can be done in NZ
The Eaqubs suggest tenancy laws in New Zealand are changed so that the standard tenancy term is longer – three years for example.
As is done with KiwiSaver, if the landlord or tenant wants to choose a different length of term, they'd actively have to deviate from the template.
The Eaqubs believe this "nudging" technique will see a shift towards longer tenancy agreements over time.
Furthermore, they suggest the notice period of 42 days should be extended to give tenants more security.
Finally, a tenant should be allowed to make whatever alternations they'd like to their rental property, provided they return it to the state they received it in when they first moved in.
Oliver Hartwich's take
Born and educated in Germany, the executive director of the NZ Initiative think tank, Dr Oliver Hartwich, sees some difficulties in New Zealand using Germany as a model in this sense.
With virtually no house price inflation in Germany over the past 30 years, and historically high mortgage rates (interest rates are now rock bottom), he says there's been no reason for Germans to jump into the property market.
They haven't been able to benefit from capital gains, and interest rates were up to 20% in the 80s.
Furthermore, local councils are funded through income tax and GST, so have always been adequately funded and incentivised pushed new housing developments.
In this sense, Hartwich says renting culture is deeply entrenched in society. He points out it's perfectly normal to see a high-paid investment banker living in a rented apartment and catching the tram to work.
"The problem is how do you change culture? You can't legislate that. It's something that will grow over time", he says.
He agrees with the Eaqubs in the sense that renting will lose its stigma once the housing market settles and buying loses its clout.
Yet he doesn't think further regulations on the rental market are necessary.
"Culture will probably change slowly over time if we get a more stable property market", Hartwich says.