A modern apartment with a car park near Britomart sells for $115,000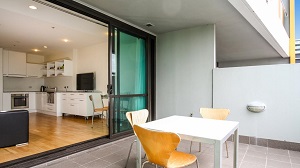 A one bedroom apartment with a car park and large balcony in the Scene Two complex on Beach Rd in Auckland's CBD sold for $115,000 at a Bayleys auctions last week.
Scene Two is leasehold complex and its high outgoings have seen prices of its apartments plunge in recent months.
The new owners of the apartment that was sold last week (pictured at right) would need to pay ground rent of $4913 a year, operating expenses (similar to body corporate levies) of $6875 and rates of $1152, taking the apartment's total outgoings to $12,940 a year.
Other affordable highlights from last week's Bayleys auctions were a three bedroom house at Glen Eden in west Auckland which sold for $561,000, a home unit in the central Auckland suburb of Kingsland that went for $655,000, a two bedroom apartment in Parnell that fetched $597,000 and a unit in Albany that sold for $385,000.
Down the line, a large modern home on a huge section in Huntly sold for $290,000 and a three bedroom bungalow in Cambridge went for $360,000.
In Tauranga prices ranged from $537,000 for a house in The Avenues to $1.115 million in central Mt Maunganui.
In Christchurch several properties were passed in for sale by negotiation and a large, modern house on a 1739 square section in St Albans that was sold "as is" went for $650,000.
See below for the full list of  Bayleys auction results from last week, including details and photos of all properties, including those that didn't sell: