A flood of student migrants who will move into the workforce and want their own homes has serious implications for the housing market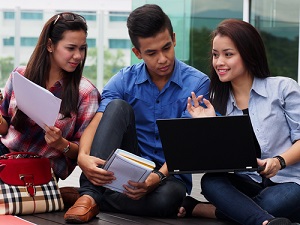 Migration is easily the biggest driver of population growth in this country which means it has a major impact on the property market.
In the year to June, migration increased New Zealand's population by 58,259 people.
While it is the effect on the residential property market that usually gets the most attention, migration driven population growth also affects the commercial property sector because migrants become employees and consumers, helping to drive demand for space in commercial buildings.
Migration delivers population growth when the number of people arriving here (on a long term basis) exceeds the number leaving to live overseas.
The accompanying graphs show the long term trends (June year 1992-2015) for both arrivals and departures and the resulting net gain in population.
The most obvious recent trends are that between 2011 and 2013, the number of people arriving here was more or less matched by the number of people departing, so that over that entire three year period, population growth from migration was just 8583, or an average of 2861 people a year.
Then in 2014 the number of people arriving here long term grew sharply, rising from 88,235 in 2013 to 115,655 in 2015, an increase of 27,420 (up 31%).
Over the same period, the number of people leaving the country dropped from 80,328 in 2013 to 57,396 in 2015, a decline of 22,932 people (-29%).
That combination of more people arriving and fewer people leaving led to explosive migration driven population growth, which climbed from a gain of just 7907 people in the year to June 2013 to 58,259 in the 12 months to June this year, a 637% increase.
Such a large and sudden increase in population puts obvious pressure on the housing market, particularly in Auckland where there was already a housing shortage and where it is believed up to 60% of migrants settle.
However to better understand how the housing market is affected, we also need to consider the type of people that are migrating to and from this country.
This has changed considerably over the last two years and one of the biggest changes has been in the number of people going to and from Australia on a long term basis.
In the year to June 2013, just over 48,000 people left this country bound for Australia while 16,781 came back, leaving a net loss of 31,246 people who headed across the ditch.
Over the following two years, the number of people leaving this country for Australia declined by 47% to 22,781, while the number coming here from Australia (around two thirds of who are New Zealand citizens) increased by 43% to 24,061, reducing the net loss to Australia to 1185.
So in approximate terms, the number of people leaving this country long term for Australia is more or less balanced out by the number coming back.
The other major trend over the last two years has been a big increase in the number of people coming here from other countries.
Growth in migration from India has been particularly strong over the last two years, with the net gain from that country rising from 5120 in the year to June 2013 to 12,031 in the year to June 2015, an increase of 135%.
Over the same period the net migration gain from China increased by 53%, from 5224 to 7995, which means India has now overtaken China as the biggest source country for net migrant inflows to this country.
The accompanying table shows the main source countries for people migrating to New Zealand, how many people came from each of them and the types of visas they arrived under.
It also shows how many people departed from New Zealand for those countries and the resulting net gain in population from each country in the year to June.
Significantly 76% of the long term arrivals from India were on student visas, and 48% of arrivals from China were also on student visas.
It is often assumed that people on student visas are only in this country temporarily and will return to their homelands at the end of their studies, but that is not usually the case.
That is because government immigration policy encourages people to come here to study as a preliminary step to obtaining permanent residency.
Under the government's points system by which migrants qualify for residency, they get points according to the level of their qualifications, for example, 50 points for a bachelor degree or 60 points for a post-graduate qualification such as a masters degree.
But they also get bonus points if those qualifications are obtained in this country - 10 points for two year's full time study in NZ towards a bachelor's degree and 15 points for two years of study in NZ towards a post-graduate qualification.
This makes it easier for migrants to obtain New Zealand residency if they have studied here and the numbers suggest that most are doing so.
The table shows that in the year to June, 13,266 people came to this country from India on a long term basis but only 1235 returned in the opposite direction, suggesting that most of those who come here to study end up staying here.
A similar trend can be seen in the numbers from China, with 10,253 arriving the year to June 2015 including 4877 on student visas, but only 2257 heading back to China.
That has important implications for the housing market and the broader economy, because 57% of migrants who settled in this country over the 12 months to June were aged from 16 to 29 (refer to the accompanying pie chart).
Most of those new arrivals will probably be looking for rental accommodation initially, perhaps in a flatting situation, while they complete their studies.
But once they finish their studies, get a job and look to start a family, they will likely move into the first home buyer's market.
This will be adding substantial demand pressure for cheaper housing, particularly in areas such as Auckland, where there is a large student population and a shortage of affordable housing.
In the year to June, this country's population increased by 86,900 people, with migration accounting for 58,300 of those and the natural increase in the population (the excess of births over deaths) accounting for just 28,700, according to Statistics NZ.
That means migration is by far the biggest driver of population growth and consequently of the demand for new housing.
Opening the door to migration provides an immediate economic impact, by channelling funds to tertiary education institutions, boosting retail sales and providing a pool of skilled labour to employers, which also helps to keep wage rates down.
That's the easy part.
Making sure there's enough places for them all to live and that infrastructure such as transport, health and education services can cope with the growth in demand that migration creates, is a lot harder.
If it comes at a time when existing infrastructure is already under pressure, as it is in Auckland, it could be a case of paying for short term gains with long term pain.
This article was first published in The Property Line Quarterly Report which is published by interest.co.nz and sent to subscribers of our regular Property Newsletter. Both the newsletter and the Quarterly Report are free, we do not share subscribers' details with third parties and you can unsubscribe at any time. To subscribe to The Property Newsletter and receive the Quarterly Report and all of interest.co.nz's other property-related stories delivered free to you inbox, enter your details in the subscription box below:
---

Our free Property email newsletter brings you all the stories about residential and commercial property and the forces that move these huge markets. Sign up here.
To subscribe to our Property newsletter, enter your email address here. It's free.
---