Wellington commercial building buyers unfazed by engineers' reports labelling properties 'quake-prone', yet demand discounts on buildings officially deemed 'quake-prone' by the Council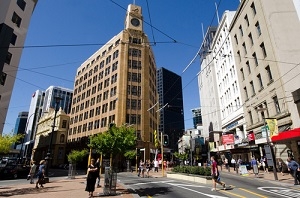 The average value of a commercial building in central Wellington is almost halved if it's officially deemed 'earthquake-prone', according to Motu Economic and Public Policy Research and GNS Science.
Researchers have found that since the Canterbury earthquakes, commercial buildings declared earthquake-prone before being sold, have been discounted by an average of 44.6% in Wellington's CBD and 25.5% across the wider Wellington region.
Levente Timar, Arthur Grimes and Richard Fabling have published these findings in their report, Impacts of Earthquake Regulation and Building Codes on the Commercial Building Market, released today.
They've also found quake-prone labelled buildings in Wellington – particularly in the CBD – have been more likely to sell since the earthquakes, compared to before.
"Existing owners may be forced sellers who have no option but to accept a highly discounted price on their buildings or they may simply be maximising their (discounted) return by selling to another party who is better placed to remediate the building," researchers say.
Motu senior fellow, Dr Arthur Grimes notes, "Interestingly, the price discount of being declared earthquake-prone is only found in commercial buildings that are officially labelled in this way.
"If a building has yet to be yellow or red stickered, but an engineer's examination would find it earthquake-prone, the discount does not eventuate. This came as a real surprise, and we believe it may be because the council's policy legally requires remedial action, whereas an engineer's report does not."
Researchers add "engineering assessments differ in their assessment of earthquake-risk, and buyers who purchase future-declared earthquake-prone buildings instead believe that the prospective purchase lies above the minimum required standard.
"We make no judgement as to whether the Council's declarations are accurate or warranted. Nevertheless, our results make clear that these declarations have a considerable impact on the commercial property market."
Grimes admits, "We don't have large sales numbers, however the effects we found are strong, so we are confident in the significance of the findings."
Between 1998 and June 2015, there were 832 sales of commercial buildings in Wellington. Sixteen were properties classified as earthquake-prone at the time of the sale, and 132 properties were declared earthquake-prone after their sale.
Under the Building Act 2004, a building is considered earthquake-prone if it is less than one third of the strength required for a new building under current design standards.
Local councils are responsible for developing strategies to deal with quake-prone buildings. In Wellington, the City Council prioritises the assessment and strengthening of buildings based on how important they are to the community, their age and condition.
Buildings determined to be earthquake-prone must be upgraded to at least one third of the new building standard or demolished. For most buildings, the maximum timeframe for undertaking strengthening work (or demolition) ranges from 10 to 20 years.
In Wellington, the database of potentially quake-prone buildings is freely available to the public. Owners must also display the quake-prone notice on site and this classification is recorded in the building's Land Information Memorandum.
Liquefaction risk: out of sight, out  of mind
In researching the effects of the Canterbury quakes on property values in other parts of the country, Grimes, Timar and Fabling have also found houses at risk of liquefaction fell in price for the few years following the Canterbury quakes, but have since returned to normal.
These findings have been published in their report, The Changing Price of Disaster Risk Following an Earthquake, also released today.
Researchers looked at how house prices changed in Dunedin City – an area with low liquefaction risk – compared to the Hutt City – a high risk area – following people become more aware of liquefaction after the Canterbury quakes.
While they found no evidence of price changes in Dunedin immediately after the first earthquake, house prices in the Hutt City fell by 2% (after adjusting for house characteristics and other market movements affecting Hutt City). However this discount wore off after two years, with no traces of it remaining three years after the 2010 quake.
Researchers say this is a natural response, as you can expect people to behave differently when the risks they're faced with are more pronounced.
They suggest the government steps in to make sure the liquefaction risk is better highlighted, by giving greater prominence to liquefaction risk on the house's LIM report for example.
Researchers suggest this could lead to houses being priced more efficiently. 
If you are interested in buying commercial property, interest.co.nz's commercial property database link has details of nearly 6,000 commercial properties that are listed for sale throughout the country.

To search the database, click on the property tab at the top of this page and then click on "Commercial properties for sale" from the drop down menu, or you can click on the link below:
---

You can find almost all commercial property for sale in our comprehensive nationwide listings which are searchable across any major type.
Find this free resource here.