New commercial property listings had a lumpy start to the year in Auckland and Canterbury but were well up in Wellington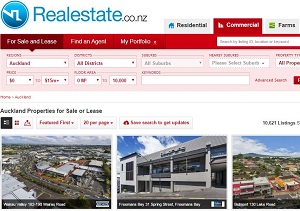 Commercial property investors started this year with more properties to choose from in Wellington and a bit of a mixed bag in Auckland and Canterbury.
The latest figures from Realestate.co.nz suggest Auckland developers would have been rubbing their hands with glee last month, with $83.8 million of commercial land being newly listed on the specialist property website in January, compared with just $28.4 million in January last year.
There was also a substantial increase in industrial land newly listed on the website in January. although the overall numbers were much smaller, with $4.2 million newly listed in January compared with just $1.2 million in January last year.
While that may have given developers plenty of tyres to kick, investors looking for other types of commercial property may find slimmer pickings.
Just $45.2  million of Auckland retail properties were newly listed on Realestate.co.nz in January compared with $86.6 million in January last year while the value of newly listed Auckland industrial buildings dropped from $123.2 million to $104.4 million and the office market moved sideways (see chart below).
New listings were up strongly for most commercial property classes in Wellington in January, with new listings of office, commercial land, industrial buildings and industrial land all running well ahead of the same time last year, although retail properties took a dip.
In Canterbury there was a huge jump in new listings of retail properties, with $10.5 million of retail premises newly listed for sale on Realestate.co.nz last month compared with just $1.6 million in January last year.
However new listings of office buildings, industrial land and industrial buildings were all well down in January compared to a year earlier, with industrial buildings showing the biggest fall, dropping from $12.9 million in January last year to $4.1 million last month (refer chart below).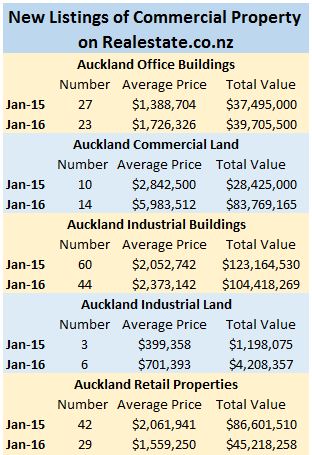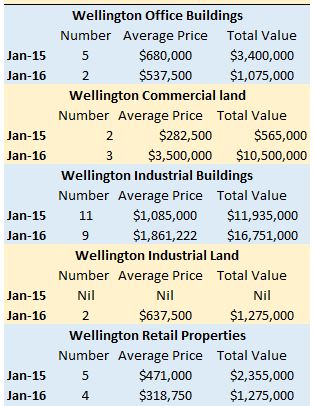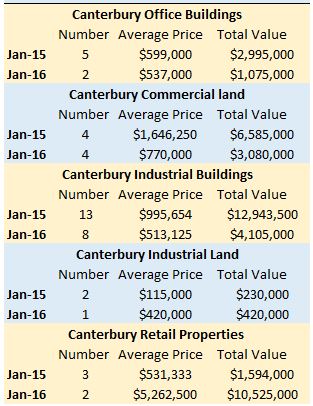 If you are interested in buying commercial property, interest.co.nz's commercial property database link has details of nearly 6,000 commercial properties that are listed for sale throughout the country.

To search the database, click on the property tab at the top of this page and then click on "Commercial properties for sale" from the drop down menu, or you can click on the link below:

You can find almost all commercial property listed for sale throughout the country in our comprehensive nationwide listings which are searchable across any major type.
Find this free resource here.