Net migration surges to yet another record high of 67,391 in February year as long term arrivals keep rising, departures stabilise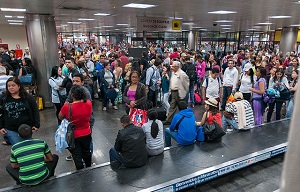 The country's migration-fuelled population grew by a record 67,391 people in the year to February, driven by on-going growth in new arrivals.
The latest figures from Statistics NZ show that 124,245 migrants arrived in this country on a permanent and long term basis in the year to February, with that number increasing by about 50% since the year to February 2011 when there were just 82,772 arrivals.
Also in the year to February, 56,854 people left New Zealand on a permanent or long term basis, down 24% compared to the 74,523 who left long term in the year to February 2011.
The figures show that while long term departures appear to have stabilised, long term arrivals are continuing to increase and that is driving the big gains in population growth from migration.
'Heading for 70k'
Westpac is predicting the net gain from migration is likely to hit 70,000 in the year to June.
"Net migration has gone from strength to strength over the past few years, consistently defying the most bullish of forecasts," Westpac's chief economist Dominick Stephens said in First Impressions newsletter on the latest numbers.
 "It now looks highly likely that net annual migration will pass 70,000 by June, taking the population growth rate to a post-1974 high of 2.1%."
The biggest sources of population growth from migration were India which provided a net gain of 12,568 in the year to February, followed by China and Hong Kong 10,362, Philippines 5212, the UK, 3666, France 3070 and Germany 3025.
The biggest growth over the last two years has come from India and the Philippines, with the net gain form both of those countries more than doubling over the last two years, and from China with the net gain from that country up by 58% over the last two years.
There was also a net gain of 1606 people from Australia in the year to February, compared to a net loss of 14,998 people across the Tasman two years previously. 
This country had a net loss of 190 New Zealand citizens in the month of February and a net gain of 6150 citizens from other countries.
The biggest destination for incoming migrants remains Auckland, with the city's population increasing by at least 31,035 in the year to February.
However there were another 15,620 net arrivals that did not state where they intended to lived and it's likely that around 10,000 of them would also have settled in Auckland, giving the city total population growth from migration that was probably around 41,000 in the year to February, putting further pressure on housing, transport, and other infrastructure services such as health and education.
After Auckland the biggest stated destinations for migrants were Canterbury 7140, Wellington 2682, Waikato 2567 bay of Plenty 2253 and Otago 1636.
Across the whole country, 31% of all arrivals were on work visas, 25% were New Zealanders returning to this country, 23% had student visas, although most of these were were likely on a pathway to residency which assists them to gain permanent residency once they have completed their studies and gained a job, and 12% arrived with residency visas.
You can receive all of our property articles automatically by subscribing to our free email Property Newsletter. This will deliver all of our property-related articles, including auction results and interest rate updates, directly to your in-box 3-5 times a week. We don't share your details with third parties and you can unsubscribe at any time. To subscribe just click on this link, scroll down to "Property email newsletter"and enter your email address.