Not much under $600,000 in Auckland at Harcourts' latest auctions, but you could get a house on a big spread in Invercargill for $200,000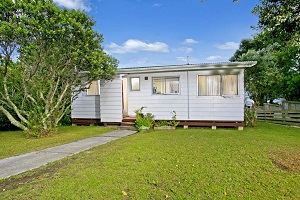 The cheapest Auckland home to sell among Harcourts' latest batch of auction properties was a two bedroom house (the second bedroom a single) on an 809 square metre section (pictured) at Army Bay at the end of the Whangaparaoa Peninsula.
It sold prior to coming to auction for $532,000.
The most expensive sale was a large house with another two bedroom dwelling on a 6028 square metre site at Coatesville, which sold for $2.175 million.
Significantly only two of the auction properties sold by Harcourts in Auckland last week went for less than $600,000.
Plenty for over $1 million though.
In Tauranga prices ranged from $348,000 for a section in Otumoetai to $920,000 for a house also in Otumoetai.
In Hamilton prices ranged from $435,000 to $725,000, there were a couple of sales Taupo, Hawkes Bay and Wellington, while prices in Christchurch ranged from $340,000 to $860,000.
In Invercargill a three bedroom house and large workshop/shed on a 3731 square metre site sold for $200,000.
See below for Harcourts' full auction results form last week:
You can receive all of our property articles automatically by subscribing to our free email Property Newsletter. This will deliver all of our property-related articles, including auction results and interest rate updates, directly to your in-box 3-5 times a week. We don't share your details with third parties and you can unsubscribe at any time. To subscribe just click on this link, scroll down to "Property email newsletter"and enter your email address.