English, Bennett signal 'significant' social housing announcement in Budget 2016; Bennett acknowledges housing crisis for homeless; English slams Auckland Council again; Smith denies housing crisis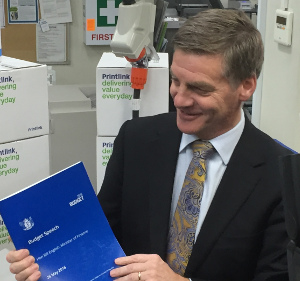 By Bernard Hickey
Finance Minister Bill English and Social Housing Minister Paula Bennett have signalled a 'significant' announcement in Thursday's Budget 2016 aimed at reducing Auckland's housing shortages, potentially around the Government's reforms aimed at encouraging charities and other to build social houses.
Bennett told reporters the announcement would be significant, and English confirmed an announcement was coming, but he was careful to say big Government funding was not needed to address Auckland's housing issues.
"The (Social Housing) Minister, Paula Bennett, has signalled there'll be some measures in the Budget. The Government faces the same challenges as everyone else. Money is not the hurdle for getting more housing. It's actually getting houses," English said at the Petone printing planet where Budget 2016 was being printed on Tuesday. The Budget will unveiled at 2pm on Thursday.
"The Government's in the housing market. We've already secured 400-500 in the last 12 months. Our challenge is the same as everyone else's, which is just finding enough houses to fit our needs. There'll be some measures. No large amount of money will fix the problem if there aren't the houses to pay for. We can pay for as many houses as we can get," he said.
Earlier Bennett said in a Radio Live interview there would be announcement about social housing in the Budget. "Yes. I think it's significant," she said, while declining to give further detail.
The Government has been introducing reforms to the way it funds state houses so independent providers can also 'bid' to offer houses to those receiving an income related rent subsidy, which is how state house tenants received subsidised rents.
"You'll have to wait and see about the detail, but we're continuing with our changes in social housing and those changes mean that we've opened the opportunities for a whole lot of people to put their capital in to providing more social housing," said English, who is also the minister for Housing NZ Corp.
"The issue particularly in Auckland, is not a lack of finance, the issue is a lack of houses. We can pay for all the houses that we can procure. The limitation is how many houses are available and suitable for social housing. The limitation is not money," he said.
'There is no housing crisis'
Meanwhile, debate swirled over whether the Government saw the Auckland housing market as in a crisis or not. This followed Housing and Building Minister Nick Smith's commented yesterday that there was no crisis and people were 'dreaming' if they thought homelessness was a new thing in Auckland.
"The idea that that suddenly happened in May 2016 is a figment of some people's imagination," Smith said.
"These are long-term challenges," he said.
However, Bennett agreed that the situation in Auckland was a crisis for those not able to find a house.
"For those that haven't got one, that are living in cars, it certainly is," she said.
But English stopped short of calling it a crisis.
"For some individual families there are some real pressures. We're taking all the measures we can. The Government can assist when there's more houses on the ground and the real bottleneck here is the Auckland City Council to enable more houses on the ground," he said.
"I wouldn't use the word crisis. For some individual families there's some real pressures," he said.
Smith said he did not want to waste energy debating whether Auckland housing was a crisis or not, instead to prefer it calling a "challenge."
"That doesn't get any houses built. What we need to do is focus on those measures that will get more homes built, that will get more help for those families that are really struggling to get good quality accomodation," he said.
'Concerns over quality'
Smith said Auckland needed to be building 50-60 houses per working day, although he noted reports he had read today about quality concerns.
"Building inspectors across New Zealand are working every day on building sites. They are finding with the huge growth - we have got an extra 40,000 people working in home construction across New Zealand - that they are picking up issues of skills resulting in a greater level of building inspections failed," he said.
"What we don't want is to sit down in ten years' time having hugely increased the number of homes but then having quality problems with those homes. It's an issue that's been increasing over the past two years as the pace of home construction has gone and we are taking initiatives to respond to it. I am not overly concerned, it's just that stretch, that balance between getting as many homes constructed as possible while at the same time making sure that we are keeping those quality assurance systems robust so that Kiwis are getting quality homes that are going to last the long haul."
Smith said the Government would make an announcement on a National Policy Statement on urban land supply next week, while an infrastructure announcement was due in the Budget.
There are issues of getting infrastructure built on time and there is more that the government is doing there. Again, you will have to wait until the Budget," he said.
English vs Auckland Council
Meanwhile, English again blamed the Auckland Council for Auckland's housing supply shortages when challenged about whether Auckland was in crisis.
"The Government can assist when there's more houses on the ground and the real bottleneck here is the Auckland City Council to enable more houses on the ground. If they enable them we can pay for them. I wouldn't use the word crisis. For some individual families there's some real pressures. We'd probably argue with them or discuss with them about what they meant, but that's not a reason to stop houses being built," he said.
English said the Council could work through its infrastructure funding issues, but he said there were benefits to the Council from growth.
"A lot of cities around New Zealand would like to have the growth that Auckland has. There's tensions there, but I don't think anyone in Auckland thinks they should stop the city growing," he said.
Challenged about the Council's claims that it would need to pay NZ$17 billion for infrastructure for housing over the next 30 years, he said: "We're already in a process of very significant assistance to Auckland through the Central Rail Link. That negotiation is ongoing. There's anything up to a billion dollars involved in that. It's a pretty significant contribution. It does help them because it means they don't have to pay for the CRL so they have that ability to pay for other things."
He said crisis was a word that over-stated the issue.
"People can call it what they like, but what we know is that the way Auckland planning has worked, it has excluded low and middle income people from the housing market and we're now dealing with the accumulation of misdirected planning. The people who are hurt most by that are low and middle income families," he said.