Twyford points to collapse in home ownership rates in South and West Auckland since 2006 and investors hoover up properties; PM says home ownership rates falling all over the world, points to KiwiSaver HomeStart; Debate rages on 'crisis' and motel debts
By Bernard Hickey
Prime Minister John Key has downplayed data showing a collapse in home-ownership rates in South Auckland and West Auckland, saying home ownership rates were falling all around the world and the Government had helped a lot of people into their first homes through its KiwiSaver HomeStart subsidy scheme.
His comments came as he was challenged in Parliament by Labour Leader Andrew Little with Statistics NZ data showing home ownership rates fell across the poorest parts of Auckland and across New Zealand for every quarter since 2006. See the table below showing the data.
"I always have to check those facts when I see them from the Labour Party, but homeownership rates around the world, actually, have been reducing," Key said.
"One thing we do know is that under this Government we are helping a lot of people into their first home. One example of that is the nearly 12,000 people who have been helped into their first home under the KiwiSaver HomeStart grant scheme, totalling $55.6 million," Key said.
Labour Housing Spokesman Phil Twyford later highlighted the impact of rental property investors buying houses in poorer parts of Auckland, while home ownership rates in 'leafier' parts of Auckland had risen.
"New analysis shows the suburbs with the highest levels of speculator activity have had the biggest falls in homeownership," Twyford said, referring to research by Auckland University Property Lecturer Michael Rehm that showed rental property investors were buying up to 80% of properties in the cheaper suburbs.
"It's clear what is happening here. National's housing crisis is increasing the gap between those who are struggling and those in the leafy suburbs. The data shows homeownership rates in Herne Bay and St Helier's are now increasing while in Papatoetoe and Manurewa they are falling," Twyford said.
"According to Census data, homeownership across New Zealand has fallen by 2 per cent. However, in Otara – where 80 per cent of properties were sold to investors last year – homeownership fell by 8 per cent, four times the national average. In Herne Bay it actually rose by 3 per cent," he said.
"Speculators are hoovering up the very suburbs that have traditionally been the places where Kiwi families have got their start in life thanks to affordable housing. This depressing tale of two cities is John Key's legacy and the product of having ignored the housing crisis for eight years and allowing speculators to run riot."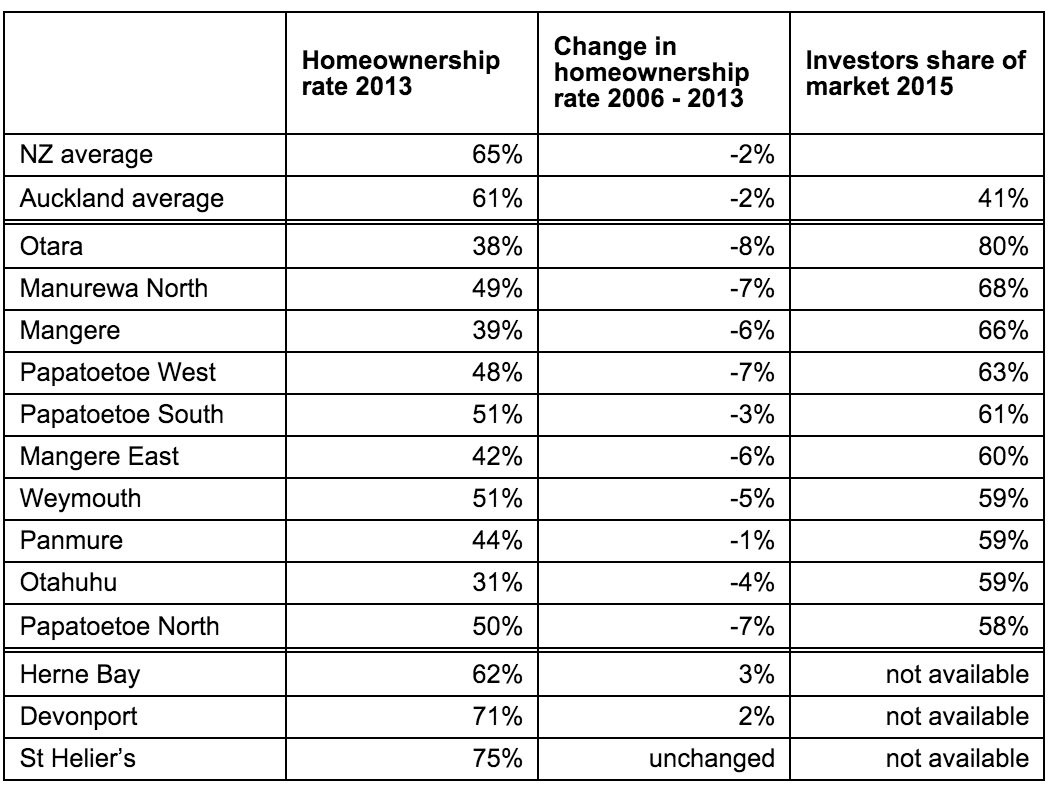 'There is no crisis in Auckland'
Ministers have scrambled in recent days to say whether or not Auckland faced a housing crisis and whether the Government had done enough to combat fast-rising rents, even faster-rising house prices, falling home ownership rates, increased homelessness and massive, unpayable motel debts for homeless people.
Building and Housing Minister Nick Smith said on Monday night that people were dreaming if they thought homelessness in Auckland was a new thing energised the debate over the 'crisis' word, given Smith, Simon Bridges and the Prime Minister have repeatedly refused to characterise Auckland's issue as a 'crisis'.
"The idea that that suddenly happened in May 2016 is a figment of some people's imagination," Smith said of the homelessness issue, which jumped onto the news agenda a week ago after The Nation's report on people living in cars and garages in Auckland.
"These are long-term challenges," he said.
Smith told reporters in Parliament yesterday he did not want to waste energy debating whether Auckland housing was a crisis or not, instead preferring to call it a "challenge."
"That doesn't get any houses built. What we need to do is focus on those measures that will get more homes built, that will get more help for those families that are really struggling to get good quality accommodation," he said.
John Key also shied away from using the 'crisis' word when talking about it to reporters in Parliament.
"The opposition parties always use emotive terms like that - I think what's much more helpful is to say, what are the steps that need to be taken and are being taken?," he said.
However, Social Housing Minister Paula Bennett did acknowledge a crisis for those who were homeless, and said the problem had gotten more acute over the last two years.
"For those people that certainly haven't got one it is a crisis, without a doubt," she said. She walked off when pressed again on the issue, saying: "Thank-you, I'm done."
Twyford highlighted Bennett's admission, saying New Zealanders had known it was a crisis for years and that it had shown Smith was out of touch.
"I hope this is a watershed moment for the Government and I hope that in this Budget we will see some policies that will seriously tackle the root causes of the housing crisis, because I think New Zealanders have had enough of the stunts, the half measures, the spin that passes for a housing policy in this government," he said.
Unpayable Motel debts
The issue of Work and Income clients' unpayable motel debts has also bubbled up this week, with RNZ reporting that one woman with eight children had racked up a NZ$60,000 debt with WINZ because she was having to spend NZ$1,200/week on a motel room, having been banned from living in a Housing NZ home because of P contamination.
Labour called on the Government to look at waiving the motel debts, citing a total of NZ$417 million that was owed to WINZ for motels and other allowances. This figure was for debts as at the end of June last year and the motel debts are not broken out.
"These people are in a situation that is not of their making, it is largely a failure of government and that debt should be written off," Little said told reporters.
"Let's put a line under it, let's start again, let's get a Housing NZ that's actually doing its job and let's make sure we can get people into homes that can actually be safe and dry," he said.
"The idea that some of our lowest income people have debts of $100,000 or in other cases thousands and thousands of dollars because of a failing of our housing department, seems totally wrong to me. It's just compounding the problem, it's not going to help us find a solution."
Minister of Social Development Anne Tolley was reluctant to forgive the debts when challenged by reporters in Parliament yesterday.
"It might be a help to these people in particular, but what about the people who have worked really hard and paid their debt off in the past, and how much debt do you forgive, and when do you start?," she said.
However, the potency of the issue was clear in John Key's comments on RNZ this morning, saying the Government could potentially bringing forward a one week grant for motel stays from September. The grant was included in the NZ$41 million package of spending announced on May 9.
"We are looking at bringing that in as quickly as we can. The first date is September 1, but may potentially be a little earlier than that if we can achieve that," Key said.
"I never want to see people getting themselves into debt - it's one of the reasons why we took this step long before it was became this public issue," he said.