Blueprint for Auckland's future looks to create capacity for more houses to be built than projections deem necessary, as expert panel calls for densification and sprawl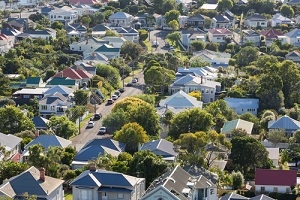 Capacity will be created for 422,000 new dwellings to be built in Auckland by 2041, if the Auckland Council votes to accept a raft of recommendations it's just been presented by a government-appointed panel of experts.
An Independent Hearings Panel has revealed how it believes the Auckland Unitary Plan should look, having received more than 10,000 pieces of evidence and listened to 249 days of hearings.
It maintains the region should be re-zoned in such a way that 422,000 new dwellings could be built by 2041 - 22,000 more than projections deem necessary and 209,000 more than the Proposed Unitary Plan notified by the Auckland Council made possible.
It also suggests Auckland's Rural Urban Boundary be expanded by 30%. The plan got a cautious initial thumbs-up from the Government, which said "it appears to meet many of the housing objectives for Auckland".
The Panel says its plan: "Enables a development pattern that is capable of meeting residential demand over the long-term and that is errs towards over-enabling capacity."
It proposes creating capacity for 270,000 new dwellings to be built in urban areas, 23,000 in live-zoned land in new urban areas, 14,000 in rural zones and 115,000 in Future Urban zones (unlikely to be available in the next seven years).
You can see the maps of how the Panel proposes Auckland be rezoned to enable these extra dwellings to be built here.
In summary, the Panel calls for the following zoning changes across the region:
Single house zone: One house per section
Area reduced by 22%
Mixed housing suburban zone: Four houses up to two storeys per section without resource consent
Area expanded by 5%
Mixed housing urban zone: Four houses up to three storeys per section without resource consent
Area expanded by 48%
Terrace housing and apartment building zone: Apartments of up to five storeys, and in some cases, six or seven storeys
Area expanded by 25%
Furthermore, the Panel suggests the Plan:
- Retains the Rural Urban Boundary, but expands it to include 30% more land and enables it to be changed by private plan changes.
- Focuses urban growth on centres, transport nodes and corridors to achieve a "quality compact urban form".
- Removes density controls in residential zones.
- Deletes the pre-1944 building demolition overlay - ie removes some protections for homes built before 1944.
- Enables the growth and development of new or existing rural towns and villages.
- Enables a development pattern to meet demand for the next 30 years and doubles the feasible enabled residential capacity to exceed 400,000 dwellings.
- Deletes provisions for framework plans and enables comprehensive consenting processes for subdivision, including earthworks and provision for infrastructure.
- Protects historic heritage places and retains special character areas.
- Provides for affordable housing choices with a mix of dwelling types.
The Panel has gone with the Council's proposed strategy of accommodating 60-70% of the growth in housing supply within the existing urban areas through intensification of suburbs, with the remaining 30-40% being generated in new 'greenfields' areas.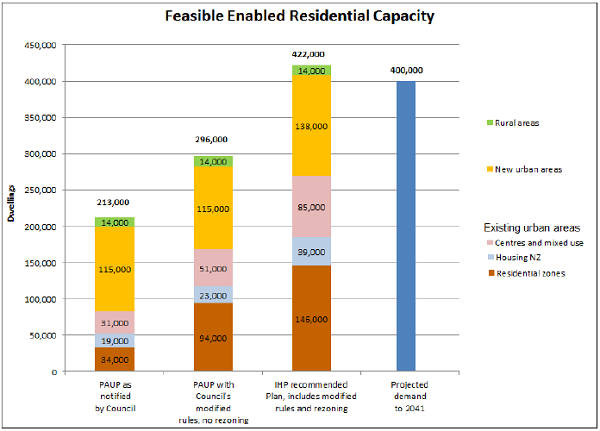 The Auckland Council now has until August 19 to consider the Panel's recommendations and decide whether to accept or reject them, bringing the five-year process of developing a Unitary Plan to an end.
The Council will discuss the recommendations at a series of public meetings between August 10 and August 18, with the aim of wrapping the process up before the local body elections on October 8.
It will be tough for the Council to make changes to the Panel's recommendations. If it rejects a recommendation it must explain why and provide an alternative solution that is within the scope of submissions made on the 2013 Proposed Auckland Unitary Plan.  
The Council may be eligible for a 20 working day extension if it gets permission from the Minister for the Environment.
Those who want to appeal the recommendations in court are limited in their ability to do so.
You can lodge an Environment Court appeal if you made a submission on the Proposed Auckland Unitary Plan, and the Council rejects a Panel recommendation related to the topic you submitted on. 
Those who made submissions can also lodge appeals to the High Court on points of law. 
If the Council accepts a Panel recommendation that is identified by the Panel as beyond the scope of a submission, anyone, whether they made a submission on the Proposed Auckland Unitary Plan or not, can lodge an appeal with the Environment Court if they believe they will be "unduly prejudiced by the decision".
The law makes provisions in relation to appeals for decisions on designations and heritage orders. 
Here is the statement Environment and Building and Housing Minister Nick Smith issued. For more on Smith and Labour Leader Andrew Little, see this story.
Independent panel's report welcomed

The Government has today welcomed the release of the Independent Hearings Panel's recommendations on the Unitary Plan, saying the new plan is crucial to Auckland's future, Environment Minister Dr Nick Smith says.

"Auckland's current planning rules date back to the 1990s, seven different councils and 400,000 fewer people. The Independent Hearings Panel has done a good job of addressing the complex issues and balancing the competing interests.

"The new plan is by its nature a complex document as it affects the development rules on more than 550,000 property titles, as well as the issues of water management, air quality and the marine environment. I am encouraged by the high-level briefing on the plan's content received from officials today. The new plan appears to meet many of the housing objectives for Auckland. It will take time for both ministers and government agencies to comprehend the full detail.

"We acknowledge the reported back Unitary Plan poses a major challenge for the council. Auckland previously could not resolve the tension between the old regional council wanting a tight metropolitan urban limit and the district and city councils wanting more growth outwards. This confusion resulted in too little provision for growth and the current housing challenges. The strength of a single Auckland Council is that this issue will be resolved.

"The Government has confidence that Mayor Len Brown and the council understand how important the new plan is to Auckland's future. We will be giving the council clear air to make a considered decision. We also have officials working to ensure a smooth transition from the SHAs to the new Unitary Plan, to maintain the momentum we have achieved in new home construction."