'Going up' is not giving Auckland more affordable housing any more. In fact, most 2016 projects are for large and expensive apartments as capacity constraints shift resources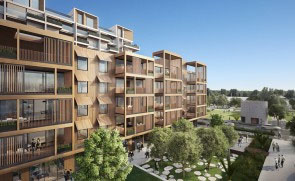 Today's building consent data has revealed Auckland's problem with 'density'.
The public discussion around increased density in the Queen City is on the basis that "going up" will allow more affordable apartments to be built and these will be more efficient users of the infrastructure, like transport, in place.
The assumption is that such dwellings will be smaller ("compact") and cheaper than houses, hence "affordable".
The problem is, that is not what is being built now, even though more apartments are being built.
The consent data shows that from 2013 to 2016, the average house size has held steady at about 235m². The average building consent value has risen over that period from about $370,000 to $426,000, an increase of +15%. On a per square metre basis, the cost has increased from $1,575/m² to $1,890/m², a +20% rise.
However, things are dramatically different for apartments.
The average apartment size being consented is now just a tad shy of 200m². With the average size in 2013 being 130m² and 2015 137m², there's been a clear jump in the size of apartments being built today. 
Apartments are suddenly much more expensive as a result. The average consent value is currently $400,000, whereas in 2015 it was $240,000 and in 2013 it was $175,000. On a square metre basis, the equivalents are $3,980, $2,220 and $1,715/m².
Most of the apartments being built in Auckland in 2016 are at the luxury end.
This is perhaps understandable given the deep housing shortage and limited building capacity. Developers are satisfying the very profitable top end of the market with the resources they have. Very few are building affordable apartments.
And this trend will no doubt become as embedded as it is for new houses until capacity grows to meet the natural demand.
But given the enormous (and growing) construction demand from non-residential projects in Auckland (and the limited places builders have to live themselves), there seems little chance that transition will be occurring any time in the plannable future. Unless, of course, we import thousands of people to do the work.
Boomer demand may have crowded out younger generations from houses, but the latest building consent data suggests they are doing exactly the same thing with apartments.
Unless Auckland's intensification plans come with rapid capacity responses to 'deliver the Plan', things will no doubt be tighter from 2017 onwards, than they are now.