NZ's population grows at fastest rate ever in year to June on the back of surging migration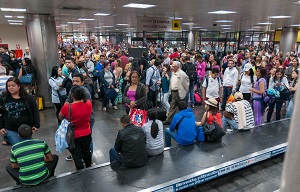 New Zealand's population increased by nearly 100,000 people in the year to June, it's biggest annual increase ever, with most of the rise coming from migration.
Statistics New Zealand estimates this country's population grew by 97,300 in the year to June, taking the total population to an estimated 4,693,000.
Migration had by far the greatest impact on population growth, accounting for 69,100 (71%) of the total increase, compared to the natural population increase (the excess of births over deaths) of 28,200 (29%) over the same period.
That meant the country's population grew by 2.1% in the year to June, which was high by historical standards.
"The last time we experienced population growth over 2% was in 1974, and before that, at the peak of the baby boom in the 1950s and early 1960s," Statistics NZ senior manager Jo-Anne Skinner said.
According to Statistics NZ's figures, this country's population growth has more than quadrupled over the last four years, driven primarily by surging migration.
In the year to June 2012, the country's population increased by just 24,100, which was entirely driven by the natural increase in the population of 31,500, which was reduced by a net loss of 3200 people due to negative migration flows, with more people leaving the country than coming to it during that period (see table below)..
Since then, the natural increase in the population has drifted steadily downwards, ticking up slightly in the year to June.
But the natural increase of just 28,200 in the year to June 2016 still remains well below the natural increase of 36,200 that occurred in the year to June 2010.
The high level of migration also means that the population is becoming slightly younger, on average, with the median age of all residents falling from 37.6 years in 2013 to 37.1 years now.
That's because nearly 80% of the net migration gain was from people aged under 35.
Statistics NZ estimates that 20% of the country's population (921,500 people) is aged under 15 years, 65% (3,073,200) are aged between 15 and 64 years, and 15% (698,400) are aged 65 and older.