More Auckland apartments being passed in as tougher LVR restrictions force investors to pull their horns in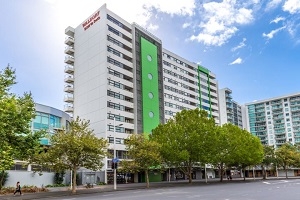 The new loan-to-value ratio (LVR) mortgage restrictions, which limit new bank mortgages to 60% of a residential investment property's valuation, are starting to bite the Auckland apartment market.
At this week's regular CBD apartment auction conducted by Ray White City Apartments, eight apartments were offered up for sale but only one sold under the hammer, a clearance rate that would have been unthinkable just a few weeks ago.
Perhaps even more worrying was that four of the apartments offered received no bids at all, although one of those was on a leasehold title, an arrangement that is out of favour with many investors.
Auctioneer Ted Ingram told the auction room that the new LVR restrictions were starting to have an effect and that the agency had dealt with three potential buyers this week who had withdrawn from discussions because banks had cancelled their pre-approved mortgages, meaning they would have to renegotiate new financing arrangements.
On the same day as the Ray White auction, Barfoot & Thompson offered only one apartment at its regularly scheduled morning auction, but it received just a single bid and was also passed in.
Going against the trend was this week's apartment auction at City Sales where just two apartments were offered and both were sold.
Although clearance rates are down overall, buyers are still about and there was competitive bidding on several of the apartments.
However the new LVR restrictions may mean investors who now need to to be able to fund a 40% deposit are hitting their maximum price earlier than would otherwise be the case, leading to more properties being passed in and potentially tougher negotiations with vendors to clinch a deal.
You can see the results of recent apartment auctions by City Sales, Ray White City Apartments, Barfoot & Thompson, Bayleys and Harcourts, as well of details of recent apartment sales by Impression Real Estate, on our Auctions/Sales results page (select Auckland Central in the "area" search field), or you can simply click on this link.
You can receive all of our property articles automatically by subscribing to our free email Property Newsletter. This will deliver all of our property-related articles, including auction results and interest rate updates, directly to your in-box 3-5 times a week. We don't share your details with third parties and you can unsubscribe at any time. To subscribe just click on this link, scroll down to "Property email newsletter"and enter your email address.