More properties receiving no bids than are being sold under the hammer at some auctions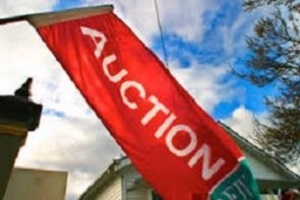 Around a third of the homes at the Barfoot & Thompson auctions monitored by interest.co.nz last week were sold under the hammer, with clearance rates ranging from 32% to 37% and the remainder being passed in for sale by negotiation (see table below).
There was a big increase in auction numbers last week and Barfoot's had so many on the Order of Sale at their Shortland St auction on Wednesday that the they had to split it between two rooms and hold two auctions simultaneously, each with more than two dozen homes going under the hammer.
However buyers continue to remain more cautious than they were a few months ago and a notable feature of many auctions is that there are often more properties that don't receive any bids than there are those that sell under the hammer (see below).
However there are also some properties that attract extremely competitive bidding and sell for exceptional prices.
At the Manukau auction the prices of the properties that sold under the hammer started at $571,000 for a three bedroom house at Manurewa, at the North Shore auctions the cheapest price of homes sold under the hammer was $625,000 for a house at Mangawhai Heads and at the auctions conducted at Barfoot's head office in the CBD, the cheapest sale was $395,000 for a one bedroom apartment.
To see the results (including prices) from all the auctions throughout the country that have been collated by interest.co.nz go to our Auctions/Sales Results page.
Results* of Barfoot & Thompson's Major Auctions: Week Ending 5 November 2016

| | | | | | |
| --- | --- | --- | --- | --- | --- |
| Venue | Number auctioned  | Number sold | Number passed in | Clearance rate | Number with no bids |
| Manukau Sports Bowl | 28 | 9 | 19 | 32% | 10 |
| Shortland St, November 2 | 73 | 24 | 33 | 33% | 24 |
| Bruce Mason Centre | 40 | 13 | 27 | 33% | 15 |
| Shortland St, November 3 | Not available | N/A | N/A | N/A | N/A |
| Shortland St, November 4 | 27 | 10 | 17 | 37% | 8 |
*Excludes results from minor auctions and those conducted on-site.
You can receive all of our property articles automatically by subscribing to our free email Property Newsletter. This will deliver all of our property-related articles, including auction results and interest rate updates, directly to your in-box 3-5 times a week. We don't share your details with third parties and you can unsubscribe at any time. To subscribe just click on this link, scroll down to "Property email newsletter"and enter your email address.