Many homes being passed in with no bids at Barfoot & Thompson's latest auctions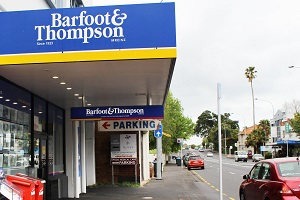 The number of homes sold under the hammer dropped down to 16% at Barfoot & Thompson's main Manukau auction last week, with more than half the properties offered failing to attract a single bid.
Interest.co.nz monitors and collates the results of four major auctions conducted by Barfoot & Thompson each week, one at Manukau, which covers the markets in south and east Auckland, one on the North Shore and two at Barfoot's head office in the CBD, which cover properties in Auckland's central and western suburbs (see table below).
A notable feature of last week's auctions was the high number of homes being offered, however the number of homes being sold under the hammer remains well below recent levels.
At the Manukau auction 49 homes were offered but only eight were sold under the hammer, leaving the remaining 41 to be sold by negotiation.
A bigger concern was that of the 41 properties that were passed in, 29 received no bids at all which was more than half of all the properties auctioned on the day.
The North Shore auction was also a biggy with 40 properties offered and just over a third selling under the hammer. But just under half of the properties offered attracted no bids.
The most successful auction of those monitored by interest.co.nz was held at Barfoot's Shortland St auction rooms in the CBD last Friday, where 21 homes were auctioned and 12 (57%) were sold under the hammer.
A noticeable trend at recent auctions has been the reduced numbers of Chinese migrant buyers in attendance and agents report that fewer have also been attending open homes and this appears to be having a significant impact on the market.
And in general terms central Auckland properties located within the boundaries of the former Auckland City Council, particularly those within the prized double grammar school zones, appear to be selling more readily than those on the North Shore and in south Auckland.
The full results of the four Barfoot & Thompson auctions monitored by interest.co.nz are available on our Auctions/Sales Results page.
Barfoot & Thompson Residential Property Auctions

| | | | | |
| --- | --- | --- | --- | --- |
| Venue | Auctioned | Sold | Passed in  | No Bids |
| Manukau Sports Bowl, 15 November 2016 | 49 | 8 | 41 | 29 |
| Shortland St CBD, 16 November 2016 | 69 | 31 | 48 | 25 |
| Bruce Mason Centre, Takapuna. 17 November 2016 | 40 | 14 | 26 | 18 |
| Shortland St CBD. 18 November 2016 | 21 | 12 | 9 | 6 |
You can receive all of our property articles automatically by subscribing to our free email Property Newsletter. This will deliver all of our property-related articles, including auction results and interest rate updates, directly to your in-box 3-5 times a week. We don't share your details with third parties and you can unsubscribe at any time. To subscribe just click on this link, scroll down to "Property email newsletter"and enter your email address.