Fewer turning up at apartment auctions but bidding still strong for some properties, while others got no bids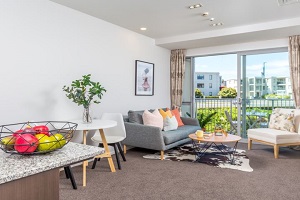 The Auckland apartment market remains fickle, with widely different results at the two major apartment auctions in the city this week.
At Barfoot & Thompson's regular Thursday morning apartment auction a smaller than usual crowd turned out for the six apartments on offer, perhaps suggesting that some buyers have already gone into holiday mode.
The apartments were mostly larger ones that may have appealed more to owner-occupiers than investors, but only one of the six was sold under the hammer and the remaining five were passed in for sale by negotiation.
Three of the apartments that were passed in did not receive any bids.
Similarly, there wasn't a big turnout for the four apartments on offer at Ray White City Apartments' weekly auction later in the same day. But those that did attend weren't afraid to bid, and three of the four apartments were sold under the hammer.
There was particularly strong bidding for a two bedroom apartment at Takapuna, getting down to $100 increments in a duel between two keen buyers, before it was eventually sold for $556,600.
The apartment that was passed in at the same auction was a leasehold unit with two bedrooms and a car park in the Scene Two complex on Beach Road in the CBD, which attracted a single bid of $190,000. 
Auctioneer Ted Ingram then topped that with a vendor bid of $250,000 and when there were no further bids it was passed in.
The full results of both auctions, with details of all properties offered including those that didn't sell and the prices of those that did, are available on our Auctions/Sales Results page.
You can receive all of our property articles automatically by subscribing to our free email Property Newsletter. This will deliver all of our property-related articles, including auction results and interest rate updates, directly to your in-box 3-5 times a week. We don't share your details with third parties and you can unsubscribe at any time. To subscribe just click on this link, scroll down to "Property email newsletter"and enter your email address.