We look at what the LINZ title data shows us about new residential dwelling construction activity, and compare that to the building consent data we are used to seeing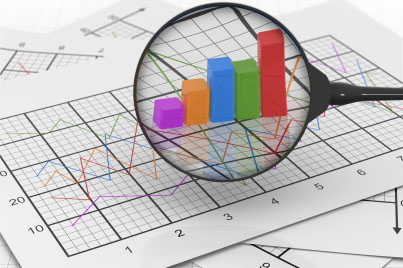 New Zealand has the disadvantage of not having any current data for the number of new houses built.
This sort of data is fundamental to policy decisions and is available in almost all other countries.
But for some reason, probably related to the way our fragmented house-building industry is structured, there is no easy way to collect this data.
And new houses are rarely sold through licensed real estate agents. Certainly, privately contracted new house builds don't need an agent.
The Council's 'Certificate of Practical Completion' is a data source unused, but that comes with delay issues again (not to mention, no one is collecting this data). Most housing is built and lived in many months or even years before this paperwork is finalised.
So we rely on 'building consents' as a proxy for how much new housing is added to our housing stock.
But as most of us know, building consent data is a poor indicator. Some consented dwellings may actually never be build, or it could be constructed any time in the next two years, and all sorts of variations can happen if it does go into construction.
So we have taken a detailed look at an alternative series - the land title data at LINZ.
This has its own issues, but they may be easier to deal with than the consent numbers.
Firstly, when a title is first registered, the Council will start assessing residential rates. The pressure is on to build and sell. But occupation of residents could still be many months away.
In the case of unit titles, however, the impact is more immediate. Unit titles generally aren't issued until the dwelling is ready for occupation and after the building is completed. These are very good indicators of new dwelling availability.
There are many classes of new property titles and we are just focused on two of them here; residential freehold, and residential unit titles. (We may look at other types at some point in the future.)
The overview (to November 2016) shows a new and marked decline in freehold titles being issued. This is almost all due to the sharp slowdown in new building in Christchurch.
The other feature of this national overview is what is not there - any growth in unit titles. Nationally, these are still running at just half the rate we saw a decade ago.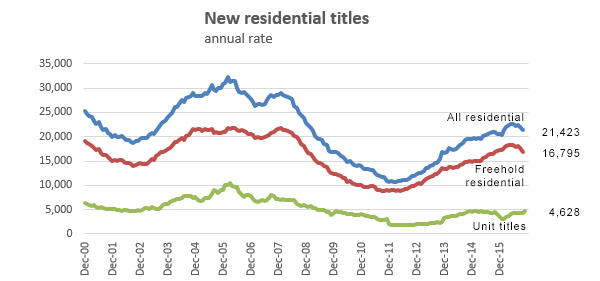 The languishing of new unit title residences is even more marked in Auckland. This is surprising given the housing pressures there.
The 2005-2006 boom was driven by aggressive development of shoe-box apartment living, and even tinier 'student accommodation'. That period has passed and the reviews of such development have not been kindly received. The new demand is for more upmarket units and the volumes of these are much less. This is not something developers mind as these newer, larger units are undoubtedly more profitable. And given the boom in non-residential construction, there is not the capacity to repeat the 2005-06 volumes. Nor is there planning tolerance for such construction. But that means far fewer units are coming on to the market, and most that do are out of reach of those on modest incomes.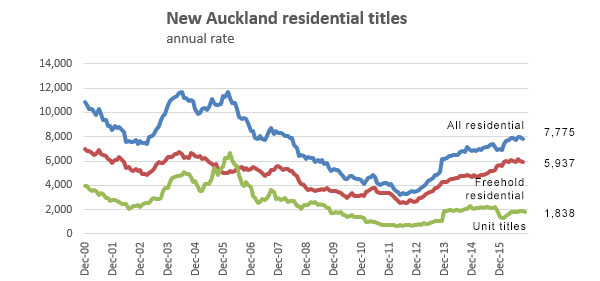 Drilling in to the data further, it is clear that far fewer unit title dwellings are being built on the North Shore. From 2003-2006 these averaged 425 per year in that city zone, but today that is down to just 150.
But nothing compares with the 5,000 annual average reached in central Auckland in 2005 - and that is now down to just over 1,300. That is a lot of 'missing' dwellings.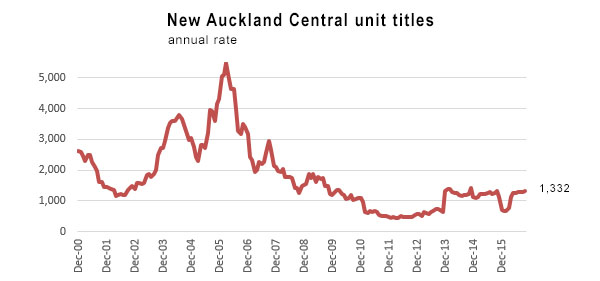 For freehold dwellings, we can see that development is ramping up in the north (Rodney) and south (Manukau) of the Auckland Council area, both imposing long commutes for those that choose to work in the central City. But of course, most people don't do that. The other feature is how weak new freehold title registration is on the North Shore. And not shown on this chart is the atrophying of the numbers for the central isthmus area.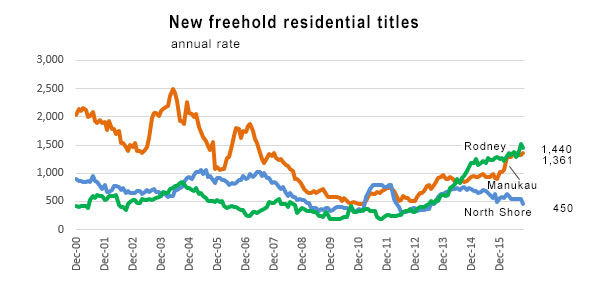 Given that Auckland seems to need at least 13,000 new dwellings per year, none of this data suggests the Council is about to get anywhere near these levels, despite what the building consent data shows.
Just how different this 'new title' data is from the building consent data is easily seen in this chart: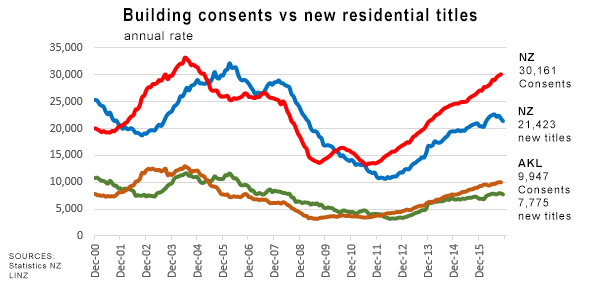 An eye-opening feature of this comparison is that for five years  - 2011 to 2016 - new titles issued for residential land and units have been running at least 5,000 lower per year than the consents being issued. By the end of that period, this difference is up to almost 10,000. Why is that?
Please note that this data is indicative only. There will be some housing included in the consent data that is not in residential title data we have selected, such as houses built on new lifestyle block titles, for example. Housing built on new cross-leasing or leasehold titles are not included here either. So that will be some of the answer. But the difference remains large.
What we really need is an official monthly survey, by local authority, of new housing added to the real estate market. Until that happens, we will have to rely on these inadequate proxies, which draw us into too much wasted effort trying to reconcile them. Time for MBIE, Councils, and the residential building industry to sort this out so that better public policy decisions can be made.