Asking prices for Northland houses listed on Trade Me Property surge 21% over the year; Auckland market not expected to take off again anytime soon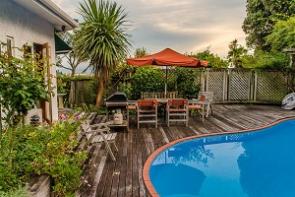 A rapidly growing portion of those deserting Auckland's inflated property market are going to Northland, according to Trade Me Property.
The average asking price for a Northland house listed on the online platform reached another record in December, hitting $521,750. This is 21% annual increase.
Over the past five years, the average asking price in Northland has risen by just under $150,000 (40%), with more than half of that increase coming in the last 12 months
Trade Me Property Head, Nigel Jeffries, says the much discussed 'halo regions' around Auckland – Bay of Plenty, Waikato and Northland – have seen enormous increases in average asking prices over the last 18 months as the Auckland market has exploded.
However, until recently, Northland was lagging behind the other two regions in terms of growth.
In November it "blasted" through the $500,000 mark and continued climbing in December.
Northland was one of the seven (of 15) regions that hit record highs in December. The others included Gisborne, Marlborough, Manawatu, Nelson, Northland, Southland and Waikato.
Nelson and Marlborough experienced particularly good growth.  
"Excluding Auckland, Wellington and Christchurch, the average asking price for property in provincial New Zealand hit a new record high in December, up almost 14% to $464,600. That's a jump of $55,450 since January, a faster rate than our largest cities over the same period," Jeffries says.
'We don't see the market taking off again any time soon'
Meanwhile the average asking price in Auckland was almost flat in December, down $3000 or 0.3% compared to November, to $908,850.
"Auckland has experienced a few quieter months recently and we don't see the market taking off again any time soon," Jeffries says.
"We're seeing some of the lowest levels of new listings that the market has experienced. There's a real reluctance of existing owners to sell. Part of the problem there is that if they sell in this market without buying, they're stuck.
"We don't see Auckland going backwards. We see it continuing in growth mode, but the probability of it having similar growth rates to what it has had in the last year or two is pretty low." 
Jeffries believes unaffordability, tougher lending restrictions and looming interest rate rises will subdue growth.
"Home owners in the city don't need to despair though, with the average asking price in Auckland jumping 13% during 2016," he says.
According to Trade Me Property, large houses (5+ bedrooms) showed the greatest year-on-year growth in average asking price in December, up 17%.
Although the majority of large homes are in Auckland, demand was hot around the rest of the country too. Outside Auckland, the average asking price for a large property rose 16.6% during 2016, landing at $793,950.
Jeffries says urban properties started 2016 strongly, but by December lagged the overall property market.
"The average asking price for an apartment, town house or unit eased and it could be down to the tighter restrictions placed on investors [40% deposit needed].
"We think sellers have been forced to adjust their expectations to attract the smaller pool of buyers. Prices are still strong, but they haven't grown like we'd anticipated early in 2016.
"In Auckland, apartments are up 7.5% in the past year, with units up 9.1%. The average asking price for both is now well over $600,000 which would require a deposit of close to a quarter of a million dollars."