Asking rents on Trade Me Property rose strongly in Wellington last year but showed only modest gains in Auckland and declined in Christchurch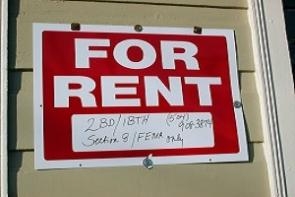 The median asking rents for rental homes throughout the country advertised on Trade Me Property rose by 7.1% last year, but there were big differences in different parts of the country.
In Auckland, the country's biggest rental market by far, the median rent was up just 3% for the year, and in the month of December the median weekly rent was $510, which was down $10 a week compared to November.
Christchurch remains a renters' market and asking rents in December were down 5% compared to a year earlier, while in the whole of Canterbury the median rent was down 2.5% for the year.
Trade Me said asking rents in Christchurch had been stagnant for around 18 months and December's median asking rent of $399 a week was still well below the peak of $495 achieved in March 2015.
"Unlike Auckland and Wellington, Christchurch tenants are in the box seat. Rents are barely moving and there are plenty of options in the market," Trade Me's Head of Property Nigel Jeffries said.
Of the major centres, the Wellington region posted the biggest gain in rents, where they were up 9.8% in December compared to a year earlier. 
The biggest gain in median rent for the year occurred in Marlborough were they were were up 23% in December compared to a year earlier.
The biggest decline was in Gisborne, where the median rent in December was down 11.5% compared to December 2015.
The chart below shows how much median asking rents throughout the country have changed in December compared to December 2015.
a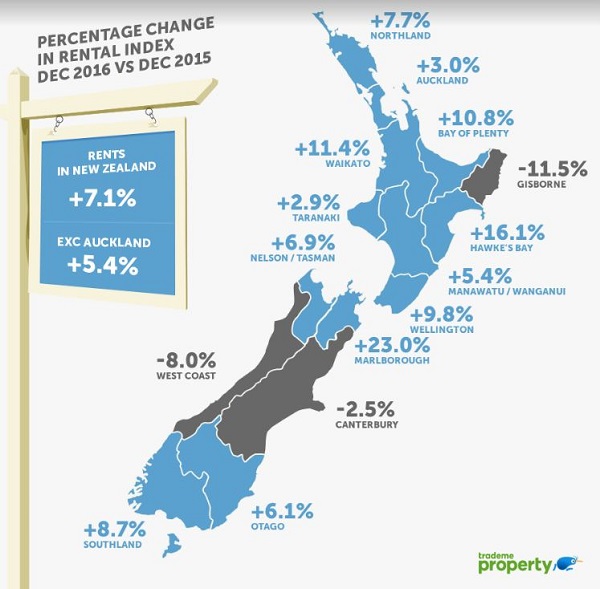 You can receive all of our property articles automatically by subscribing to our free email Property Newsletter. This will deliver all of our property-related articles, including auction results and interest rate updates, directly to your in-box 3-5 times a week. We don't share your details with third parties and you can unsubscribe at any time. To subscribe just click on this link, scroll down to "Property email newsletter"and enter your email address.