Harcourts' auction rooms are getting busier as summer heats up, with sales achieved on just over half the auctioned properties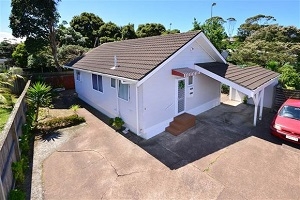 Harcourts auctioneers have started getting busier as the market heads into February with the country's largest real estate agency auctioning 65 residential properties in the week to February 5, with sales being achieved on 36 of them, giving a clearance rate of 55%.
The auction rooms were particularly busy on Auckland's North Shore where prices ranged from $700,000 for a two bedroom house in Glenfield (pictured) to $1.85 million for a house on a large section in semi-rural Okura.
There was also a sprinkling of auctions in other parts of Auckland with a house at Hillpark in Manukau selling for $792,000 and a house in Epsom selling for $1.427 million.
In other parts of the country Harcourts held auctions in Taupo, Christchurch, Blenheim and Invercargill last week, with results varying widely between properties and locations.
The latest results from Harcourts' auctions with the prices achieved on individual properties that were sold and details of those that were not, are available on our Auctions/Sales Results page.
You can receive all of our property articles automatically by subscribing to our free email Property Newsletter. This will deliver all of our property-related articles, including auction results and interest rate updates, directly to your in-box 3-5 times a week. We don't share your details with third parties and you can unsubscribe at any time. To subscribe just click on this link, scroll down to "Property email newsletter"and enter your email address.