Barfoot & Thompson sold 40% at their latest auctions as sluggish sales trends continue into the peak summer season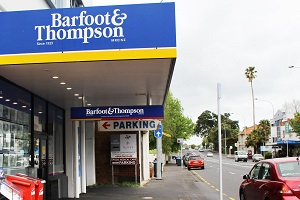 The auction rooms are back up to speed again after the summer break, but Auckland sales rates remain at the lower levels evident in the latter part of 2016.
Auckland's largest real estate agency Barfoot & Thompson marketed 129 properties for auction last week (to February 10). It sold 49 of them either under the hammer or by 5pm the following day, giving a clearance rate of 40%.
That is well below the success rates that were evident in the first half of last year and suggests sales could remain sluggish during this year's peak summer selling season.
The biggest auctions were on the North Shore where 16 of the 34 properties were sold, giving a clearance rate of 47%, and at Manukau where seven of the 23 properties were sold, giving a clearance rate of 30%.
Results at the company's head office auction room in the CBD were mixed (see chart below).
The prices achieved for individual properties that were sold and the details of those that didn't sell are available on our Auction/Sales Results page.
Barfoot & Thompson Auctions: Week ending 10 February
Venue
Sold* 
Not Sold* 
Total
On Site
9
10
19
Manukau: 7 Feb
7
16
23
Shortland St: 7 Feb
4
6
10
Shortland St: 8 Feb
1
5
6
Whangarei: 8 Feb
2
1
3
Shortland St: 8 Feb
5
6
11
Takapuna: 9 Feb
16
18
34
Shortland St: 9 Feb
4
7
11
Shortland St: 10 Feb
1
5
6
Total All Venues
49
74
123
*

Sold means sold under the hammer or by 5pm the following day. Not sold includes properties that remained unsold by 5pm the day after the auction and properties that were marketed for sale by auction but withdrawn from sale or postponed before the auction commenced.
You can receive all of our property articles automatically by subscribing to our free email Property Newsletter. This will deliver all of our property-related articles, including auction results and interest rate updates, directly to your in-box 3-5 times a week. We don't share your details with third parties and you can unsubscribe at any time. To subscribe just click on this link, scroll down to "Property email newsletter"and enter your email address.