No let up in Auckland's population growth pain as net migration remains at 71,300 a year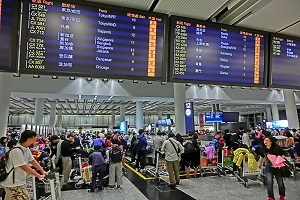 Population growth from migration remained at the record 71,300 a year in the 12 months to February, the same as it was in the January year, according to Statistics NZ.
This will bring little relief to Auckland where burgeoning migration-driven population growth is creating an increasing shortage of affordable housing and putting growing pressure on infrastructure such as transport and social services.
There were 128,816 permanent and long term arrivals in the 12 months to February, up 3.7% compared to the previous 12 months, less 57,483 long term departures (up 1.1%), giving a net gain of 71,333 for the year.
That compares with a net gain of 67,391 in the year to February 2016, 55,121 in the year to February 2015 and 29,022 in the year to February 2014.
More New Zealanders continue to leave the country permanently or long term than arrive back, with a net loss of 1687 NZ citizens in the 12 months to February, and a net gain of 73,020 citizens of other countries.
China and Hong Kong remain the biggest source of new migrants, with a net gain of 11,045 from that country in the 12 months to February, followed by India 8267, the UK 6192, South Africa 4679 and the Philippines 4526.
The number of people arriving on work, and residency visas was up while student visas were down.
Around a third of all people who arrived in the country on a permanent or long term basis in the 12 months to February were on work visas, Statistics NZ said.
In a Quickview note on the figures ASB's economists said if present trends continued, it wouldn't take long for the annual gain from migration to push past 72,000 a year.