Nick Smith says tackling land bankers best done by creating competitive land markets; Welcomes Productivity Commission proposals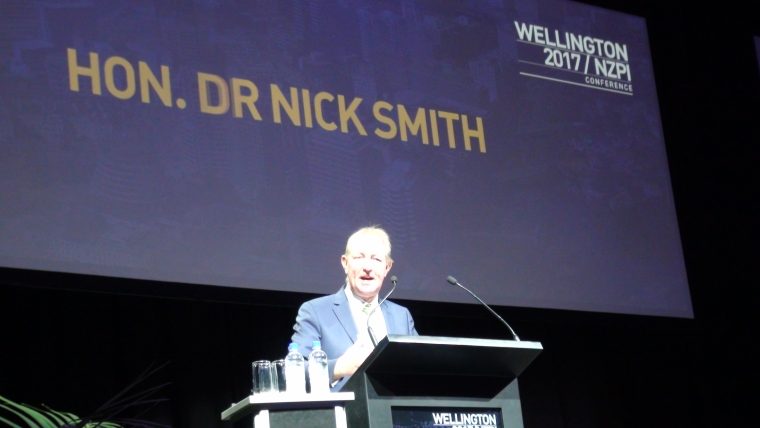 Tackling land bankers is best done by encouraging development by way of more competitive land markets, the Minister for Environment and Building and Construction has told a nationwide group of urban planners.
Nick Smith was touting the government's Resource Management Act Amendment Bill to the NZ Planning Institute annual conference in Wellington when he mentioned the government and planners required a better understanding of the ways in which economics and planning interacted – particularly in the case of land banking.
It was perhaps apt that the comment was made in the Capital. The issue jumped to the top of Wellington's housing debate in recent weeks, as Mayor Justin Lester called out property owners in the city's northern suburbs for sitting on land that could be used for nearly 3,000 residential homes.
Referring to the new legislation, Smith said the Bill included a requirement for regional, district and city councils to be proactive in their planning to ensure there was sufficient residential and business land to meet projected long-term demand.
"The best way that we can constrain the land banker is actually to ensure that there is sufficient competition in those land markets in our towns and growing cities to ensure that there are the incentives to move on and to move those to development," he said.
Smith bemoaned that, "when I look at a market like Auckland over my period in Parliament," the average section price had risen from $100,000 in 1990 to $530,000 today.
"The Resource Management Act is the primary piece of legislation that governs the creation of new sections and new lots, and that is why it is so important that we open up land supply, that we reduce the time that it takes to get consents, that we reduce the costs of land subdivision and we better enable the construction of the infrastructure to support that growth," he said.
Auckland had a stark difference to the Christchurch housing market, where rents over the last two years had dropped 8%, and house prices were flat, Smith said. "An average Kiwi family can secure a good quality new home [in Christchurch] for $390,000 – less than half than that of Auckland."
There was a connection between the way in which planning powers had been administered in Christchurch and the way that had impacted on house prices, he claimed.
Productivity Commission report helpful
The Productivity Commission's recent report on improving New Zealand's urban planning framework was welcomed. This, alongside the OECD's report on how New Zealand was hitting its environmental buffers for growth, had raised key questions that needed to be tackled, Smith said.
The Productivity Commission report outlined ways to tackle land banking, suggested the government should scrap the Resource Management Act and highlighted the divergent processes New Zealand local authorities had for urban and environmental planning.
Smith appeared to indicate National would not go as far as to completely scrap the contents of the RMA and start from scratch. Any changes needed to build on existing work and not just be an ideological reaction, he said.
In response to suggestions that the RMA should be replaced with two Acts regarding the urban and natural environments, Smith indicated this would likely be a stretch too far.
But an integrated framework with different sets of principals for city and environmental development could be a "constructive way through," he said. "You can expect our thoughts prior to the election on the format for being able to move that important discussion forward."
Smith noted the RMA's 25-year lifespan was now the same as the Town and Country Planning Act that it had replaced. He warned that any programme to reform New Zealand's urban planning framework would be difficult and could take at least three-to-five years to complete.
Meanwhile, in support of one of the Productivity Commission's proposals, Smith paid tribute to work done by the Christchurch and Auckland independent hearing panels on the cities' spatial plans, saying they had been able to "knock off" complete re-writes of those plans in not much more than two years.
The RMA Amendment Bill would allow the government to use those processes again in other communities without having to resort to special legislation, he noted. Local authority planning processes had become too slow and cumbersome, he said.