Fewer property auctions as we head towards winter but 50%+ sales rate at Barfoot and Bayleys auctions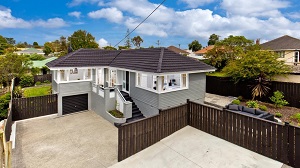 The number of properties being auctioned is starting to wind down as we head towards winter, although last week's sales rates held up reasonably well.
Barfoot & Thompson marketed 76 residential properties for sale by auction last week and sold 40 of them, giving a sales clearance rate of 53%.
Bayleys marketed 22 properties for sale by auction and sold exactly half of them.
Barfoot did not have their usual big auction at Manukau last week and does not have one scheduled for this week, although one will be taking place later in the month.
At the North Shore auction 10 of the 22 properties were sold, and at one of the larger Shortland St auctions, 15 of the 25 properties were sold.
Sales were slower for properties auctioned on site, with sales achieved on just three of the 11 properties offered on site.
Exactly half (20) of the properties that were sold at auction by Barfoot last week sold at prices below $1 million.
Highlights of the  Bayleys' auctions included a 1217 square metre development site with three dwellings on it which had views across the Milford Marina and Hauraki Gulf and sold for $3.66 million, and a four bedroom executive home with a heated pool on a 4 hectare lifestyle block at Kumeu, which went for $2.235 million.
At the other end of the price scale a modernised 1950s-era three bedroom house at Beach Haven on the North Shore fetched $800,000 and a refurbished 1960s-era three bedroom house in Titirangi went for $885,000.
To see the full results with the prices of individual properties that sold and details of those that didn't sell, go to our Auction Results page.
You can receive all of our property articles automatically by subscribing to our free email Property Newsletter. This will deliver all of our property-related articles, including auction results and interest rate updates, directly to your in-box 3-5 times a week. We don't share your details with third parties and you can unsubscribe at any time. To subscribe just click on this link, scroll down to "Property email newsletter"and enter your email address.