Labour, National target Hamilton with KiwiBuild vs social housing announcements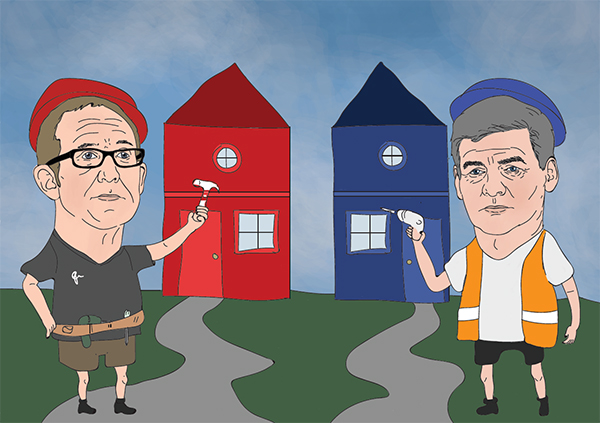 Labour and National are both talking up the potential for building more houses on Crown land in Hamilton.
The parties put out press releases detailing plans for extra social housing in Hamilton (and KiwiBuild housing too in Labour's case) within three minutes of each other on Friday.
Labour leader Andrew Little was first out of the blocks, promising 200 of Labour's KiwiBuild houses and state houses on land in various parts of the city.
Prices for the KiwiBuild homes – to be sold to first home buyers in the private market – will range from $200,00 for one-bedroom units, to $350,000 for three-bed terraced housing, Little said.
The National-led government's Minister for Social Housing, Amy Adams, then announced 43 new two-bed social housing properties will be built in Hamilton by the end of July in a $12m project.
Read Labour's announcement below:
Labour will build 200 affordable KiwiBuild houses and state houses on unused government-owned land as the first steps in our plan to fix Hamilton's housing crisis, says Leader of the Opposition Andrew Little.

"We will build new houses to replace the abandoned state houses at Jebson Place and on the site of other run-down state houses, as well as new developments. It's a disgrace that National has left this site rot for years on end in the middle of a housing crisis.

"These will be the first of thousands of good, modern, affordable homes Labour will build in Hamilton. Prices for KiwiBuild homes will vary from $200,000 for one bedroom units to $350,000 for three-bedroom terraced homes.

"There were 219 people on the Housing New Zealand waiting list for homes in Hamilton, as of March this year, but all National is promising is just 43 state houses at a time of desperate need. Labour's plan will fill the need for more state houses and provide more affordable homes for first home buyers.

"Hamilton needs more houses, simple as that. House prices and rents are rising beyond the reach of families. Young couples are seeing the Kiwi dream of owning their own place slipping away. Overcrowding and homelessness are on the rise.

"When we've got a housing crisis, the Government needs to step up and build some houses. National won't do it. Labour will.

"Labour will work with Hamilton Council and Waikato Tainui, who have the right of first refusal on these blocks of land. I know the Council and Tainui are both committed to more affordable housing; it's time the Government played its part, too.

"It's time for action. Rolling up our sleeves and fixing the housing crisis will be the top priority of the next Labour-led Government.

"We'll do that by building affordable homes for first homebuyers, cracking down on speculators who use our houses as gambling chips, and building state houses for families in need," says Andrew Little.
Read National's announcement below:
Forty-three new two-bedroom houses will be built in Hamilton by the end of July, Social Housing Minister Amy Adams has announced.

"Hamilton is experiencing a rapid growth in demand for social housing from single people, couples and small families," Ms Adams says.

"Around 70 per cent of the people on the social housing register for Hamilton need a one- or two-bedroom home. However, these homes make up only 50 per cent of Housing New Zealand's Hamilton portfolio.

"We need to increase the number of smaller social housing properties in Hamilton. Housing New Zealand's infill programme is allowing these homes to be built quickly."

The $12 million programme allows Housing New Zealand to make better use of its land holdings in a cost-effective way.

"It makes sense to build the new two-bedroom homes on underutilised sections where this is practical. There's no need to subdivide the sections, which means the new homes are very cost-effective and provide the taxpayer with great value-for-money."

Housing New Zealand is working closely with the tenants of our existing homes at these sites to make sure there is minimal disruption while the new homes are being built. They are also taking the opportunity to fabricate a lot of components off-site, to speed up construction and reduce the impact on the neighbourhood.

"The new homes are warm, dry and modern. They include covered deck areas for outdoor living, and are designed to be easy to look after and maintain," Ms Adams says.

The first homes will be completed by late May, and the entire programme will be finished by July.

Ms Adams noted the constructive relationship between Hamilton City Council and Housing New Zealand, which meant the project was able to be streamlined and the full consenting process fast-tracked.

"It's great to see the Hamilton City Council working constructively with central government to help provide essential social housing projects for the city. Councils have a big role to play in solving demand for social housing in their communities, particularly through streamlining consenting processes to help us get houses built. We can build houses more quickly when councils cooperate. Hamilton City Council have done their ratepayers proud by being part of the solution, rather than the problem."

Questions & Answers

When will site works commence?

Housing New Zealand has already started work at a number of sites around Hamilton. The first homes are nearing completion, and will be finished by late May.

Where are the new homes?

Suburb

Homes

Bader 1

Chartwell 4

Deanwell 6

Dinsdale 2

Enderley 4

Fairfield 1

Fairview Downs 1

Forest Lake 1

Maeroa 2

Melville 6

Nawton 12

Saint Andrews 3

Total 43

Who will live in the new homes?

Once the new homes have been completed, they will be matched to people on the social housing register, or used to rehouse Housing New Zealand tenants living in homes that aren't suitable for their needs.

All the new homes have two bedrooms, which means they're most suitable for small families.