There was a sharp decline in the number of new dwelling consents issued across NZ in April, Auckland's housing supply crisis worsening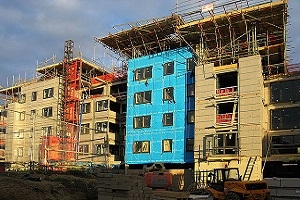 The number of new dwelling consents issued throughout the country dropped sharply to 2106 in April. That's down 673 from 2779 in March, and down 255, or 11%, from 2361 in April last year, according to Statistics NZ.
That puts the number of new consents back to where it was two years ago, when 2112 consents were issued in April 2015.
Statistics NZ attributed the drop to the fact that the Easter break occurred in April this year.
"Councils don't usually issue building consents on public holidays, so the timing of Easter drove a fall in April's building consents," Statistics NZ business indicators manager Neil Kelly said.
However the figures held little in the way of Easter cheer for the Auckland market, where there is an estimated shortage of at least 30,000 homes, and 1250 additional homes need to be provided each month just to keep pace with the region's migration-fuelled population growth.
Just 726 new dwellings were consented in Auckland in April, which was just 58% of the number that need to be built each month to keep pace with rising demand.
That means Auckland's housing crisis is continuing to worsen each month, with migration running at record levels, but new housing supply continuing to fall well short of what is required.
Within the Auckland region the highest number of new consents issued was in the upmarket central Auckland suburbs (166), followed by Albany on the North Shore (125).
But only 73 were issued in Manurewa-Papakura and 60 in Franklin, suggesting that most of the new consents were for more expensive homes in the more upmarket suburbs, with a lesser level of activity in the more affordable parts of the region., which would worsen the housing crisis for people on low incomes struggling to get a home. 
There was an even bigger fall in Christchurch with just 159 new dwelling consents issued in the city in April, compared to 278 in March and 399 in April last year.
And Wellington City continues to languish in new housing activity, with consents for just 49 new dwellings issued in the capital in April, but that was up on the 45 issued in March, and the 28 issued in April last year.
In Lower Hutt just 11 new consents were issued in April, and in Upper Hutt there were just 12.
In a First Impressions note on the figures Westpac senior economist Satish Ranchhod said when the effects of the Easter break were removed, it appeared that the number of new consents being issued had levelled off rather than declined.
"After picking up through 2015 and early 2016, monthly consent issuance appears to have reached a plateau," he said.
"In Auckland, overall consent issuance has levelled off since 2016 after a steady rise from 2011."
There has also been a big decline in the amount of new non-residential new building work consented.
In April consents were issued for 204,000 square meters of non-residential buidlings, including schools, hospitals, offices, shops, warehouses, factories, hotels and civic buildings, compared ro 325,000 square meters in March and 286,000 square meters in April last year.
In the 12 months to April consents were issued for 2,643,000 square meters of new non-residential buildings, the lowest it has been since the same period of 2013.