Building and Construction Minister Nick Smith has asked MBIE to find out if any NZ high rise buildings are clad in combustible materials like those in the Grenfell Tower tragedy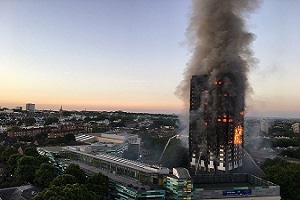 The government is making urgent enquiries to find out if any high rise buildings in the country have combustible claddings, in the wake of the horrific Grenfell Tower apartment building fire in London.
Early indications are that the Grenfell Tower building could have been clad in combustible materials which may have caused the fire to spread rapidly throughout the building.
Building and Construction Minister Nick Smith said the Government amended this country's Building Code in January to restrict the use of combustible cladding systems in buildings, following fires in Melbourne and Dubai.
"I am advised that these systems are not prevalent in New Zealand," Smith said.
"I have asked the Ministry of Business Innovation and Employment to contact councils and check whether any high rise buildings have been constructed with these materials prior to the amendments earlier this year."
Smith said the Government was also tightening fire safety requirements for high rises in proposals put out for consultation in May, which would clarify the responsibilities between structural and fire engineers and tighten the verification methods for claddings.
"New Zealand's style of housing is shifting, with more people living in high rise apartments that carry greater risks from fire hazards," Smith said.
"Our building regulations need to keep pace with this change in living styles and ensure that New Zealanders never experience what happened in the Grenfell Tower in London.
"We will be watching the detailed inquiries into the London disaster to see whether there are any issues relevant to New Zealand's building and fire regulations," he said.
You can receive all of our property articles automatically by subscribing to our free email Property Newsletter. This will deliver all of our property-related articles, including auction results and interest rate updates, directly to your in-box 3-5 times a week. We don't share your details with third parties and you can unsubscribe at any time. To subscribe just click on this link, scroll down to "Property email newsletter"and enter your email address.