Prices ranged from $186,000 for Auckland CBD apartment to $3.42 million for mortgagee sale at Barfoot & Thompson's latest auctions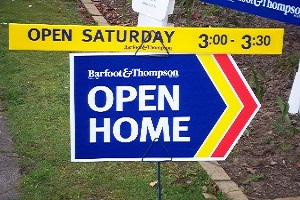 Barfoot & Thompson had an overall sales clearance rate of 43% at their auctions last week.
The agency marketed 95 properties for sale by auction and sold 41 unconditionally by 5pm the day after their auctions, with a small number withdrawn from sale or postponed and the rest being passed for sale by negotiation.
Of the major auctions, the highest sales rate was 64% on Auckland's North Shore, and the lowest was 21% at Manukau (see table below).
Prices ranged from $186,000 for a leasehold apartment in the CBD, to $3.42 million for a house in Epsom sold at mortgagee auction.
You can see the results with the prices achieved on the individual properties that sold on our Residential Auction Results page.
If you are interested in commercial property, check out our Commercial Property Sales page.
Barfoot & Thompson Auction Results 7-13 August 2017
Date
Venue
Sold*
Not sold*
Total
% Sold
7-13 August
On site
3
1
4
75%
8 August
Manukau
3
11
14
21%
8 August
Shortland St, CBD.
3
3
6
50%
9 August,
Shortland St: Mortgagee/High Court
1
0
1
100%
9 August
Shortland St, CBD
7
10
17
41%
9 August
Whangarei
1
5
6
17%
9 August
Pukekohe
1
0
1
100%
10 August
North Shore
14
8
22
64%
10 August
Shortland St, C

 

BD.
5
8

 

13

 

38%

 

 

 

11 August

 

Shortland St, CBD.

 

3

 

 

8

 

11

 

18%
Total
41
54
95
43%
*

Sold includes properties sold under the hammer or by 5pm the following day. Not sold includes properties remaining unsold by 5pm the day after the auction, or that were withdrawn from sale or had their auction date postponed.
You can receive all of our property articles automatically by subscribing to our free email Property Newsletter. This will deliver all of our property-related articles, including auction results and interest rate updates, directly to your in-box 3-5 times a week. We don't share your details with third parties and you can unsubscribe at any time. To subscribe just click on this link, scroll down to "Property email newsletter"and enter your email address.