September saw Auckland record the second lowest volume of house sales in a September month - after 2008 - during the past 25 years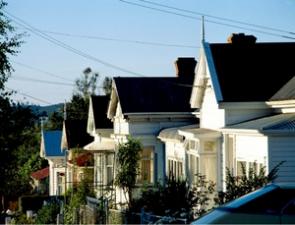 Auckland house sales volumes plunged 31.5% in September, year-on-year, meaning sales in the city were the second lowest for a September month since interest.co.nz's records began in the early 1990s.
The latest Real Estate Institute of New Zealand (REINZ) national monthly sales data, out Thursday, showed big falls in sales volumes but prices holding up.
As the chart below shows, the 1,591 monthly sales in Auckland was the second weakest September month in terms of number of sales in the country's biggest property market, after 2008, going back at least 25 years. Unlike this year the 2008 election was held in November. However, Lehman Brothers collapsed in September 2008.
Meanwhile, the median number of days to sell in Auckland rose by three, year-on-year, to 37. And, REINZ notes, only 422, or 26.5%, of the Auckland sales were made via auction. That's a 57% drop versus September 2016.
Inventory, or the number of properties for sale in the Auckland region, increased 916, or 14%, year-on-year to 7,429 from 6,513.
In terms of prices, national median residential property prices increased 1.2% year-on-year in September to $525,000, the REINZ says. Nationally, excluding Auckland, median prices increased 5.7% year-on-year. The September Auckland median price came in at $845,000, down $5,000 year-on-year.
The national REINZ House Price Index, developed in conjunction with the Reserve Bank, increased 0.7% during September month-on-month, reaching an all-time high of 2,699. REINZ says this indicates the ratio of sales prices when compared to CVs is at its highest point since the Index began. The Index also shows all NZ regions except Auckland, Taranaki & Canterbury, reached a new high during September.
ASB senior economist Jane Turner suggests Auckland house prices are likely to remain supported - at very high levels -  given the ongoing imbalance between housing supply and demand.
"In saying that, indicators in September are conflicting, with the median number of days to sell remaining elevated in Auckland. This suggests the balance between buyers and sellers remains tilted toward buyers, and hence the outlook for Auckland house prices does remain highly uncertain," Turner says.
Running in favour of the Auckland housing market is ongoing record inward migration and historically low interest rates. Running against it is the Reserve Bank restrictions on high loan-to-value ratio mortgage leading, and less money coming into the market from overseas. There's also political uncertainty until a government is formed following the September 23 election.
"Signs of Auckland house prices stabilising despite soft demand and Wellington prices still growing strongly, reinforces the need for the Reserve Bank to remain vigilant for signs the housing market may reaccelerate. The election has added another layer of uncertainty to housing market trends, and the Reserve Bank will want to see how the housing market trends develop over the coming months once a government is formed," adds Turner.
*The charts below both come from ASB.
*This article was first published in our email for paying subscribers early on Friday morning. See here for more details and how to subscribe.