The housing market has had a miserable start to spring with the volume of September sales at it lowest level in six years, according to the Real Estate Institute of New Zealand.
In Auckland September's sales were at their lowest level in nine years.
A total of 5428 residential properties were sold in September, down 26.2% compared to September last year.
The slump is sales was nationwide, with all 16 regions the REINZ measures recording a decline in sales compared to a year ago.
The biggest declines were in Tasman -37%, Southland -34%, Auckland -31.5% and Marlborough -27.4% (see the Volumes Sold chart below for the regional trends).
However prices have held up reasonably well in spite of the drop off in sales, suggesting the middle to upper end of the market is faring better than the middle to lower end.
But any price gains are modest and capital growth is restrained.
The national median selling price dropped $5,000 to $525,000 in September from $530,000 in August, and remains well below its peak of $542,500 set in March. It's just 1.2% above the median price in September last year.
In Auckland the median price increased from $840,000 in August to $845,000 in September, but also remained well below the March peak of $905,000 and below the September 2016 median of $850,000.
Effectively there have been no capital gains in the Auckland market over the last 12 months.
Around the country, September's median price was up compared to August's median in Northland, Auckland, Bay of Plenty, Gisborne, Taranaki, Wellington, Tasman, West Coast and Otago, and down compared to August in Hawke's Bay, Manawatu/Whanganui, Nelson, Marlborough, and Canterbury. The median was unchanged in Waikato (see the Median Price chart below for the regional trends).
"The soggy start to spring combined with the election effect has had a significant impact on the number of sales across the country," REINZ chief executive Bindi Norwell said.
"This is the lowest number of sales in eight months and the lowest number of sales in the month of September for six years."
Properties are also taking longer to sell, with the median number of days to sell across the country rising from 31 days to 34.
There has also been a significant decline in the number of properties being sold by auction.
There were 807 properties throughout the country sold by auction in September, down a whopping 54.5% compared to September last year.
In Auckland auction numbers were down 57%.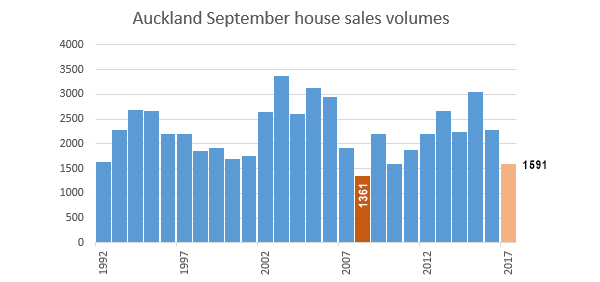 Looking ahead the prospects for the Auckland market look particularly grim for the start of the summer selling season, because the total number of properties listed for sale in the Auckland market (inventory) was up 14% in September compared to September last year, while the number of sales made in the region during the month was down 31.5% compared to a year ago.
Here's The REINZ's full regional report for September:
REINZ Monthly Property Report - September 2017.pdf