Migration accounted for two thirds of Auckland's population growth in the year to June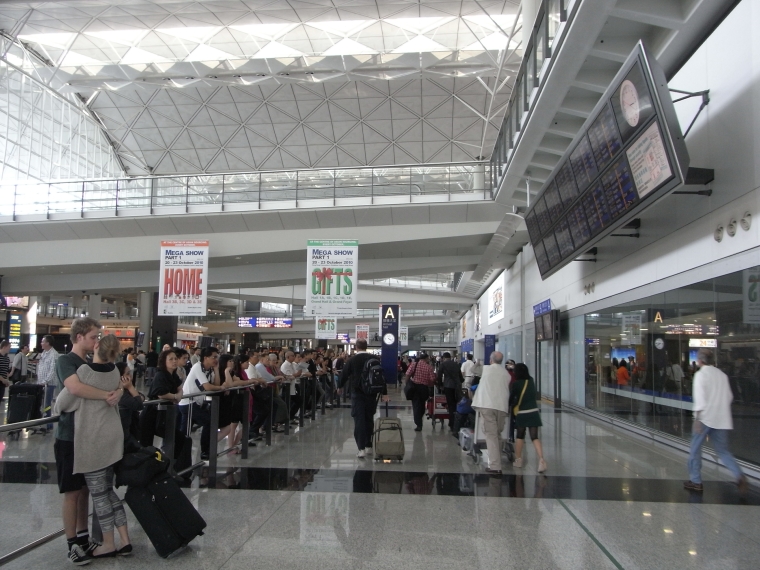 By Greg Ninness
Auckland's population is estimated to have increased by nearly 43,000 in the year to June, with two thirds of the increase coming from migration.
That means Auckland's estimated housing shortage has increased by around 25,000 since 2012, and is continuing to grow.
Statistics NZ estimates Auckland's population grew by 42,700 in the 12 months to June, with the net gain from migration accounting for 28,900 (67.7%) and the natural increase in the population (the excess of births over deaths) accounting for 13,800 (32.4%).
The migration figures include growth from people moving to Auckland from overseas and those moving to Auckland from other parts of New Zealand.
While migration is still accounting for the bulk of Auckland's growth, it was lower than it was in the 12 months to June 2015 and 2016, while growth from the natural increase in the population was higher, although the differences were small (see graph below).
The numbers also suggest that Auckland's housing shortage is continuing to worsen, with interest.co.nz estimating that 14,233 new dwellings would have been required to house the region's population growth in the 12 months to June (based on average household occupancy levels), but only 10,364 were consented, leaving a shortfall of 3869 homes.
The table below plots the trend in Auckland's population growth versus the number of new homes being consented since 2012.
It shows that the shortfall in new housing stock worsened dramatically in the 12 months to June 2014 after the former National government loosened the rules on immigration.
And the housing shortfall has accumulated every year, increasing to almost 25,000 homes by the end of June this year.
That estimate could be on the low side, because the building consent figures make no allowance for existing homes that have been demolished to make way for new ones, or homes that were consented but never built.
The figures show the enormity of the problem confronting the new Labour-led government as it tries to tackle the housing crisis it has inherited from its predecessor.
The figures also suggest that Auckland's housing shortage will continue to worsen unless there is either a significant drop in migration into the region, or a substantial rise in the number of new homes being built.
Net migration in to the region would need to drop back to just over 17,000 a year for the number of new dwellings being consented at current rates to match the increased demand for housing.
But that would do nothing to reduce the existing accumulated shortfall.
So even if there is a combination of reduced immigration and an increase in the construction of new homes, it's likely to be many years before demand and supply for housing in Auckland get back into any sort of equilibrium.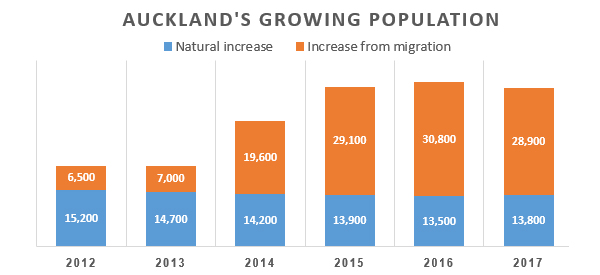 Auckland's Growing Housing Shortage
Year to June
*Natural increase in population
*Increase from net migration
*Total Increase in population
Estimated no. of new dwellings needed
*No. of new dwellings consented
Annual housing shortfall
Cumulative housing shortfall
2012 
15,200
6500
21,700
7233
4,197
3,036
3,036
2013
14,700
7000
21,700
7233
5,343
1,890
4,926
2014
14,200
19,600
33,800
11,266
6,873
4,393
9,319
2015
13,900
29,100
43,000
14,333
8,300
6,033
15,352
2016
13,500
30,800
44,300
14,766
9,651
5,115
20,467
2017
13,800
28,900
42,700
14,233
10,364
3,869
24,336

*Source: Statistics NZ