The lack of bidding at Barfoot & Thompson's latest auction shows buyers are becoming extremely cautious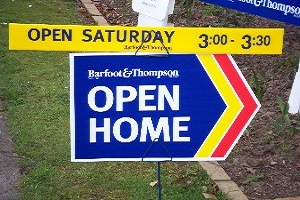 It was hard going at Barfoot & Thompson's auction at the agency's head office on Friday morning (8 December).
Twenty five properties were on offer, with 21 of them located in Auckland's western suburbs plus three from the North Shore and one in Grey Lynn.
Most of those from west Auckland were located in suburbs such as Massey, Henderson, Te Atatu and Glen Eden with a couple from New Lynn and Avondale.
Traditionally, these have been considered among the more affordable parts of Auckland to live, so you would think that properties in these ares would sell readily.
But that was not to be.
By the end of the auction only seven of the 25 properties had sold, giving a clearance rate of just 28%.
Even more ominously, of the 18 properties that were passed in, only two received any bids and 16 properties (64% of the 25 on offer) received no bids at all.
Of course that does not mean the properties that were passed in will not eventually sell.
But it does show how much the market has slowed since last year, when a clearance rate above 80% would have been more likely at an auction of similar properties.
The latest auction figures also show how much of a gap is developing between the price vendors expect to achieve and the price buyers are prepared to pay.
Vendors with unrealistic expectations are becoming a major problem for the real estate industry and are causing a build up of unsold properties as we head towards the Christmas break.
The key to achieving a sale is now increasingly about the negotiations that take place after the hammer has fallen, and finding an agent with the right negoitiating skills in that situation could be crucial to having a successful outcome.
Details of all the properties offered at Friday's auction and the prices of the properties that sold, are available on our Residential Auction Results page.
You can receive all of our property articles automatically by subscribing to our free email Property Newsletter. This will deliver all of our property-related articles, including auction results and interest rate updates, directly to your in-box 3-5 times a week. We don't share your details with third parties and you can unsubscribe at any time. To subscribe just click on this link, scroll down to "Property email newsletter" and enter your email address.
Our searchable database of auction results is here, and that includes these latest Barfoots auction results, by individual property.