QV's average property values have fallen in Auckland, Tauranga and Wellington over the last three months - vendors warned against unrealistic price expectations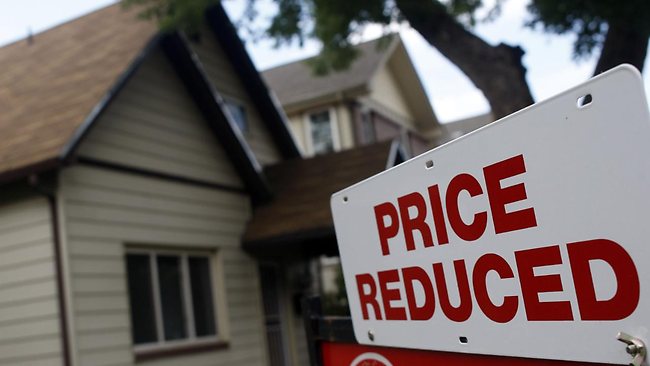 Quotable Value is warning flattening or falling house prices mean we are now in a buyer's market and some vendors may have unrealistic expectations about what their property is worth.
"The data very much confirms what we're seeing, with values continuing to moderate or drop after a sustained period of growth," QV general manager David Nagel said.
"Interestingly, we're observing challenges around managing seller expectations on sales prices," he said.
"After a sustained period of national value growth, sellers can sometimes have an inflated - even unrealistic - view of the value of their property.
"This is resulting in slower than usual average times to sell properties across some areas.
"In this sense, it's a buyer's market," Nagel said.
QV's House Price Index shows that the national average value of a home was $675,680 in the three months to the end of June, down 0.3% compared to the previous three months.
In the Auckland region the average value was down 0.2% over the same period, while it dropped 0.9% in Tauranga and 0.8% in the Wellington region where the biggest fall of 1.3% occurred in Wellington City.
In Christchurch average values were almost unchanged, up just 0.1% over the three months to the end of June compared to the previous three months. But they were down 0.3% compared to where they were 12 months ago. 
The biggest fall in average property values over three months to June occurred in Opotiki where it was down 15.2% compared to the first quarter of the year, and down 3.8% compared to 12 months earlier.
The biggest increase was in Ruapehu District where the average property value was up 5.8% in the second quarter of the year compared to the first quarter (see the table below for the full regional and district figures).
'We've returned to normal market conditions'
QV Auckland senior consultant James Steele said value growth in the region had flattened.
"We've returned to normal market conditions with prices stabilising," he said.
More properties were being sold by negotiation rather than auction, mainly due to lower demand, he said.
"With less demand, sellers are adjusting expectations and are more open to negotiation in order to get their property sold.
"We're seeing some developments struggling with off the plan sales, although finished entry level stock within these developments remains in demand," Steele said.
In Wellington QV senior consultant Paul McCorry said value growth was continuing to moderate.
"Sales activity is subdued, with low listing numbers, particularly in established inner city suburbs," he said.
"Demand remains high from first home buyers, with many taking advantage of less competition at open homes and auctions through winter.
"This is particularly evident in more affordable areas such as Hutt City and Porirua," he said.
In Christchurch sales activity was slowing while property values were flat overall, according to QV Christchurch property consultant Hamish Collins.
There was growing interest for new builds in and around the city centre, but an oversupply of land and developments in fringe districts and on the outskirts of the city, he said.
These included areas such as Halswell, Wigram, Preston and the Selwyn and Waimakariri districts.
"We are seeing some developers offering new builds or recently constructed properties at discounts as a way to free up cash for their next project," Collins said.
"This is having a flow on effect on the overall value of new builds or existing properties in these areas," he said.
QV House Price Index - June 2018
Territorial authority
Average
current value
12 month
change
3 month
change
 
$
%
%
Auckland Region
1,053,575
0.8%
-0.2%
Wellington Region
639,112
4.8%
-0.8%
Total New Zealand nationwide
675,680
5.7%
-0.3%
 
 
 
 
Far North
412,220
0.9%
-4.5%
Whangarei
525,816
6.7%
1.6%
Kaipara
534,368
2.6%
2.4%
Auckland - Rodney
957,145
0.1%
0.8%
Rodney - Hibiscus Coast
934,930
0.7%
1.6%
Rodney - North
979,832
-0.5%
0.0%
Auckland - North Shore
1,224,965
1.8%
-0.9%
North Shore - Coastal
1,399,222
1.6%
-1.6%
North Shore - Onewa
972,081
1.6%
0.1%
North Shore - North Harbour
1,213,442
1.9%
-0.4%
Auckland - Waitakere
826,625
0.4%
0.2%
Auckland - City
1,243,037
1.2%
-0.1%
Auckland City - Central
1,083,584
1.0%
-1.1%
Auckland_City - East
1,564,605
1.9%
-0.1%
Auckland City - South
1,105,723
0.2%
0.7%
Auckland City - Islands
1,175,112
6.9%
1.5%
Auckland - Manukau
903,686
0.3%
0.1%
Manukau - East
1,155,930
-1.2%
-0.3%
Manukau - Central
699,672
2.3%
0.1%
Manukau - North West
782,457
1.4%
0.5%
Auckland - Papakura
702,677
3.7%
-0.1%
Auckland - Franklin
662,417
-0.7%
-1.9%
Thames Coromandel
734,202
3.3%
1.8%
Hauraki
403,558
2.9%
4.1%
Waikato
483,490
6.6%
2.3%
Matamata Piako
413,914
-1.3%
-6.2%
Hamilton
556,426
3.2%
0.2%
Hamilton - North East
707,077
4.0%
1.1%
Hamilton - Central & North West
513,254
3.0%
-0.5%
Hamilton - South East
507,314
3.2%
1.1%
Hamilton - South West
487,384
1.0%
-2.3%
Waipa
541,141
5.1%
1.0%
Otorohanga
285,465
-0.9%
-5.0%
South Waikato
217,158
5.1%
-5.0%
Waitomo
192,294
0.4%
-2.0%
Taupo
475,360
6.5%
0.9%
Western BOP
625,371
2.1%
-1.9%
Tauranga
700,305
1.9%
-0.9%
Rotorua
427,132
8.5%
1.8%
Whakatane
438,436
9.9%
2.9%
Kawerau
206,844
13.8%
5.3%
Opotiki
283,513
-3.8%
-15.2%
Gisborne
311,304
8.9%
1.7%
Wairoa
n/a
n/a
n/a
Hastings
455,678
8.5%
-0.3%
Napier
512,519
15.7%
3.0%
Central Hawkes Bay
319,700
13.7%
-2.5%
New Plymouth
450,067
6.4%
2.0%
Stratford
267,204
13.1%
4.1%
South Taranaki
218,754
10.2%
-1.2%
Ruapehu
194,365
18.9%
5.8%
Whanganui
255,020
12.6%
5.2%
Rangitikei
204,733
9.9%
1.7%
Manawatu
340,819
10.4%
3.2%
Palmerston North
391,599
9.5%
2.1%
Tararua
197,597
12.4%
5.6%
Horowhenua
319,022
14.5%
3.7%
Kapiti Coast
557,092
9.6%
1.4%
Porirua
564,489
10.8%
2.8%
Upper Hutt
491,812
9.7%
1.9%
Hutt
535,378
5.0%
0.6%
Wellington
758,020
4.3%
-1.3%
Wellington - Central & South
756,859
3.6%
-1.3%
Wellington - East
810,297
3.2%
-1.2%
Wellington - North
685,190
6.4%
-0.9%
Wellington - West
868,905
3.0%
-2.1%
Masterton
347,468
14.5%
3.2%
Carterton
396,287
13.6%
4.0%
South Wairarapa
479,944
16.4%
-0.5%
Tasman
574,000
7.3%
2.0%
Nelson
563,287
5.9%
-0.5%
Marlborough
458,958
4.8%
1.0%
Kaikoura
N/A
N/A
N/A
Buller
189,000
1.6%
3.4%
Grey
217,055
2.7%
1.7%
Westland
239,784
-5.1%
-2.2%
Hurunui
385,235
2.3%
2.2%
Waimakariri
440,005
0.0%
0.1%
Christchurch
494,707
-0.3%
0.1%
Christchurch - East
372,273
0.0%
0.3%
Christchurch - Hills
669,350
0.7%
0.1%
Christchurch - Central & North
583,746
-0.5%
0.4%
Christchurch - Southwest
471,922
-0.8%
-0.4%
Christchurch - Banks Peninsula
516,466
1.7%
1.8%
Selwyn
547,662
0.3%
-0.4%
Ashburton
351,972
1.2%
0.2%
Timaru
358,799
3.8%
0.7%
MacKenzie
521,108
13.1%
-0.4%
Waimate
245,747
12.0%
4.8%
Waitaki
305,449
9.6%
0.5%
Central Otago
490,974
8.4%
2.6%
Queenstown Lakes
1,152,201
7.5%
2.8%
Dunedin
409,898
9.2%
3.0%
Dunedin - Central & North
426,882
9.8%
3.4%
Dunedin - Peninsular & Coastal
380,445
9.8%
3.7%
Dunedin - South
389,289
9.4%
3.7%
Dunedin - Taieri
422,578
8.3%
1.6%
Clutha
206,570
5.5%
-3.3%
Southland
250,789
-1.2%
-10.6%
Gore
216,425
2.7%
-3.9%
Invercargill
265,151
9.7%
1.3%
 
 
 
 
Main Urban Areas
790,027
5.1%
-0.5%