Prices started at $400,000 for a three bedroom family home in Mt Wellington at Bayleys' Auckland auctions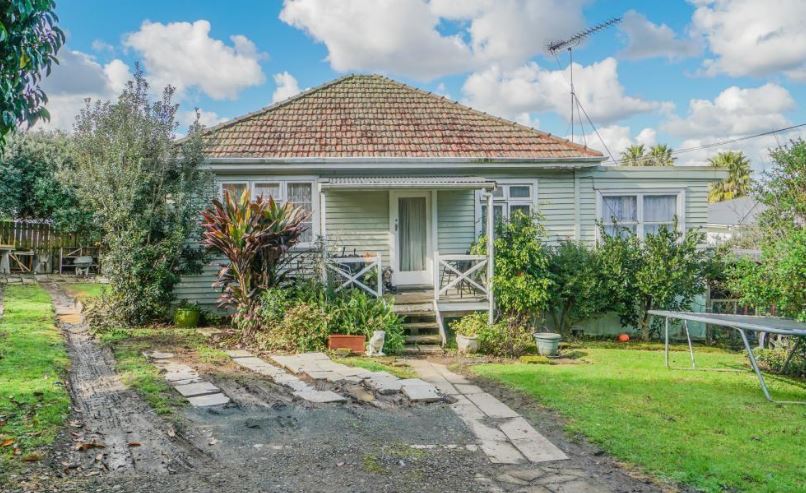 Winter ended on a high note in Bayleys' Auckland auction rooms with sales achieved on two thirds of the properties that went under the hammer.
However the number of properties being auctioned remained at their winter lows, with Bayleys auctioning 15 Auckland residential properties last week.
But there must have been at least a hint of spring in the air with sales achieved on 10 of them and the remainder passed in for sale by negotiation.
A highlight was two, three bedroom family homes located across the road from each other in a cul de sac in Mt Wellington that were offered for sale separately.
One was a 1940s bungalow (pictured) that sold for $400,000 and the other a more modern house that went for $435,000.
The prices would have been affected by the fact that high voltage power lines and the motorway were both just a few metres from the properties.
The most expensive sale at Bayleys' Auckland auctions was a modern three bedroom/three bathroom home in Parnell which fetched $3.85 million.
In Tauranga Bayleys achieved a 50% clearance rate last week, auctioning six homes and selling three.
Also in Tauranga, Eves Real Estate auctioned 14 properties last week and achieved sales on six. 
Details including a photograph and description of the individual properties offered and the prices achieved on those that sold are available on our Residential Auction Results page.
You can receive all of our property articles automatically by subscribing to our free email Property Newsletter. This will deliver all of our property-related articles, including auction results and interest rate updates, directly to your in-box 3-5 times a week. We don't share your details with third parties and you can unsubscribe at any time. To subscribe just click on this link, scroll down to "Property email newsletter" and enter your email address.