Strong competition for retail premises in Tauranga pushes its net yield below 5%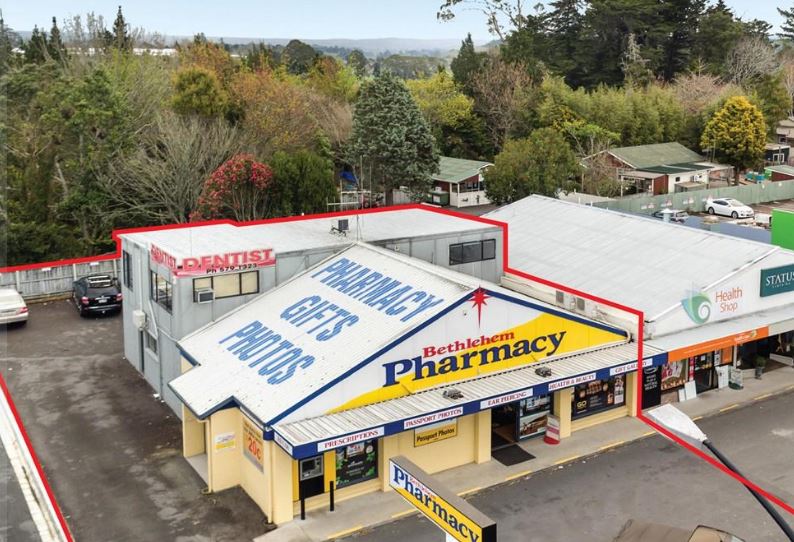 Investment Property Snapshot
What: 305sqm commercial premises on 809sqm site.
Where: 227A SH2, Bethlehem, Tauranga.
Sold for $1,260,000.
Net Rental Yield 4.98%.
There was substantial interest from investors throughout the country in a retail premises in Tauranga that Bayleys took to auction a couple of weeks ago.
The property was in two parts, a single level shop at the front that was built in 1982, and a two level extension at the back built in 1989, with a combined floor area of 305 square metres.
The buildings sat on 809 square metres of land with a
good amount of parking.
The property is well located directly across the road from the Bethlehem Town Centre, with the front shop leased to a pharmacy and the rear premises to a dentist, both well established businesses.
The pharmacy's lease had just over three years to run and the dentist's lease just under three years, and both had further substantial rights of renewal. 
One potential drawback was the building's seismic
rating which was assessed at 40% of the New Building Standard.
That could mean new owners undertaking strengthening work at some stage, but Bayleys agent  Myles Addington who marketed the property, said the building's age and attractive location meant investors taking a long term view may also see an opportunity for a more substantial redevelopment at some stage.
Addington said he fielded enquiries for the property from as far afield as Auckland and Gore, although the majority were locals and mostly experienced investors.
On auction day there were five bidders who between them made 35 bids, so it was well contested until it sold under the hammer for $1.26 million.
It is currently providing net rental income of $62,730 (+GST) which gave its new owner a net rental yield of 4.98%.
Check out the details of other investment property sales from around the country on our Commercial Property Sales page.
You can receive all of our property articles automatically by subscribing to our free email Property Newsletter. This will deliver all of our property-related articles, including auction results and interest rate updates, directly to your in-box 3-5 times a week. We don't share your details with third parties and you can unsubscribe at any time. To subscribe just click on this link, scroll down to "Property email newsletter" and enter your email address.