Fletcher Building CEO says residential building in Auckland 'plateauing', though activity levels remain 'robust'; sharp contraction in residential consents in Australia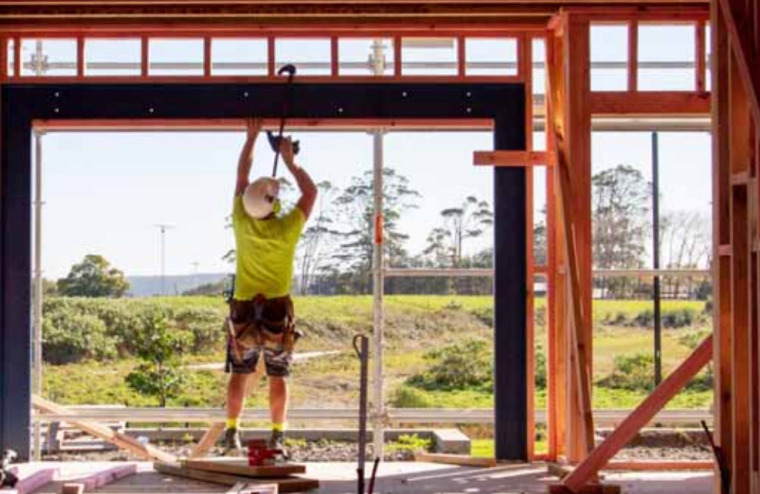 The chief executive of building and construction giant Fletcher Building is seeing signs of residential construction 'plateauing' in Auckland - while things are looking tough for the company's Australian residential building activities, which are witnessing a sharp slowdown in activity.
Fletcher CEO Ross Taylor's comments were in materials prepared for Fletcher's annual meeting of shareholders in Auckland on Tuesday.
Taylor said that in New Zealand the company was seeing residential consents run at around 30,000 per annum, "slightly down on previous years, but much as we expected it to look like".
"Activity levels remain robust, especially here in Auckland, but we think this is now plateauing and there are signs that the Auckland market will pull back slightly."
When announcing Fletcher's annual earnings figures in August, Taylor had said  the company was expecting a moderating in overall building consent numbers from a high level in the coming year,  but still  estimated that Fletcher itself would likely sell something like 800 dwellings in this coming year. Taylor didn't give an update on that figure in his written address to the annual meeting on Tuesday.
Fletcher said in the year to June 30, 2018 it sold 714 dwellings in NZ, up from just 499 the previous year. Operating earnings for the residential group within Fletcher were up 12% at $85 million.
Taylor said on Tuesday that looking forward; with continuing supply/demand imbalances, a solid New Zealand economy, and immigration levels not being overly curtailed, "we continue to feel the present levels of activity are sustainable - at least for the medium term".
He said in Fletcher's other New Zealand markets, infrastructure and commercial construction activity remained solid.
Not so good in Australia though...
"In Australia residential activity accounts for about 40% of our end market exposure.
"Here we have seen a sharp contraction in new residential consents in the most recent quarter. This is particularly evident in the apartment or multifamily portion of the market.
"This is currently impacting our Australian businesses, particularly Stramit, Laminex and Tradelink, and feels like a medium term trend that has some distance to run yet."
Taylor said that as the team in Australia worked through their "turnaround plans" for the company's Australian business, "they're factoring in a weaker Australian residential market than we had previously assumed".
In giving an overall trading update for the company in the early months of the current (June) financial year, Taylor said Fletcher's trading to the end of October had broadly reflected the market trends he had just outlined.
"In New Zealand, our businesses have generally been trading in line with our expectations which we forecast to be flat to slightly down on last year.
"The volume of houses we've sold to date in our Fletcher Living business have been a little lower than last year, but this is a stock issue rather than a market issue, and we expect this to catch up as we complete house construction and new stock becomes available to sell through the year."
In terms of financial performance, Taylor said Fletcher expected earnings before interest and tax (EBIT) and pre-significant items "to be in the range of $630 million to $680 million.
"Our previous guidance would have placed us at the top end of that range, but we have eased this back slightly given the present trading conditions we are seeing in Australia, and the [four-week-long] outage we experienced at the Golden Bay cement plant in New Zealand.
"In terms of the first half of the financial year, which ends on 31 December, we are expecting that EBIT will be approximately 10% lower than the first half of 2018.
"This is a reflection of; the Australian trading conditions, the Golden Bay cement issue, and timing of sales in our New Zealand residential business."