Barfoot & Thompson had more properties on offer at its latest auctions and the sales rate was also up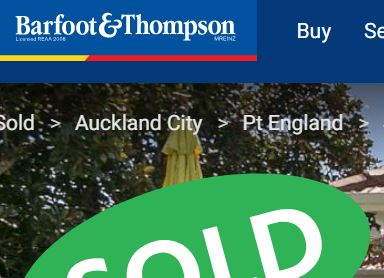 There was an increase in both the number of properties that Barfoot & Thompson took to auction last week and in the sales clearance rate.
The agency, which is the largest in the Auckland region, marketed 194 properties for sale by auction last week and sold 56 of them, giving an overall clearance rate of 29%.
In the previous week Barfoots marketed 172 properties for sale by auction and sold 22% of them, and two weeks previously 151 properties were up for auction of which 26% were sold.
The most surprising result of last week's auction was the big North Shore auction where 34 properties were on the bill of fare but only four (12%) were sold.
But at the big Manukau auction,where 43 properties, mostly from south and eastern Auckland were offered, the sale rate was 42%.
At the auctions conducted in the company's main Shortland Street auction rooms, where most of the properties offered are from Auckland's central and western suburbs, the sales rates ranged from 27% to 38%.
Overall, the results suggest the market is continuing to track on the same steady course that has been evident for the last few weeks.
Details of the individual properties offered and the selling prices of most of those that sold are available on our Residential Auction Results page.
Barfoot & Thompson Auction Results 19-25 November 2018

| | | | | | |
| --- | --- | --- | --- | --- | --- |
| Date | Venue | Sold | Not sold | Total | % Sold |
| 19-25 November | On-site | 5 | 14 | 19 | 26% |
| 20 November | Manukau | 18 | 25 | 43 | 42% |
| 20 November | Shortland St, CBD. | 4 | 9 | 13 | 31% |
| 21 November | Mortgagee/Court | 0 | 1 | 1 | 0 |
| 21 November  | Shortland St | 12 | 32 | 44 | 27% |
| 21 November | Pukekohe | 2 | 8 | 10 | 20% |
| 22 November | North Shore | 4 | 30 | 34 | 12% |
| 22 November | Kerikeri | 1 | 1 | 2 | 50% |
| 22 November | Shortland St | 4 | 8 | 12 | 33% |
| 23 November | Shortland St | 6 | 10 | 16 | 38% |
| Total  | All venues | 56 | 138 | 194 | 29% |