Covid-19 rules relaxed: Gathering limits loosened from this weekend; vaccine passes and some vaccine mandates to be removed from April 5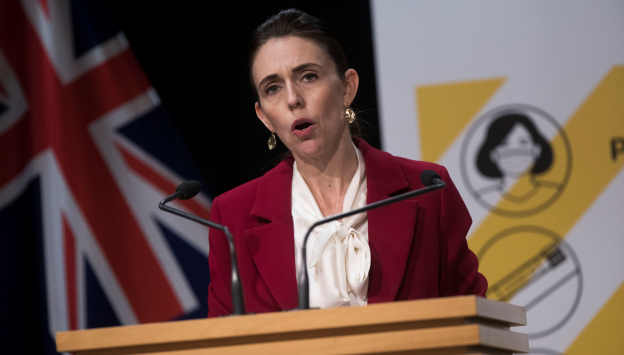 The Government is loosening Covid-19 restrictions. Below is a quick summary of the changes:
Gathering rules loosened from Saturday
Up to 200, rather than 100, people will be able to attend indoor hospitality venues, provided they're seated and separated.
Gathering limits will be removed for outdoor venues, so people can attend sports matches, concerts, etc.
The traffic light system is staying in place. The country will stay at RED. These changes reflect tweaks to this RED setting.
Mask use is still required. 
QR code scanning removed from Saturday
All scanning requirements will be removed.
People are encouraged to keep the app on their phones, as QR scanning might be required in the future if circumstances change.
Some vaccine mandates scrapped from April 5
Vaccine mandates will be removed for police, education and defence workers.
Vaccine mandates will stay for people who work in healthcare, aged care, corrections and at the border.
Those in the private sector can continue to choose to use mandates. MBIE will provide updated advice around this soon.
The government is seeking advice on narrowing mandates for the healthcare sector.
Vaccine passes not needed from April 5
People won't need to show vaccine passes at hospitality venues, etc.
Vaccine passes may be used again in the future if circumstances change, including if a new variant emerges.
Businesses can continue to use vaccine passes if they wish.
People are encouraged to keep vaccine passes on their phones.
Updated summary of traffic light system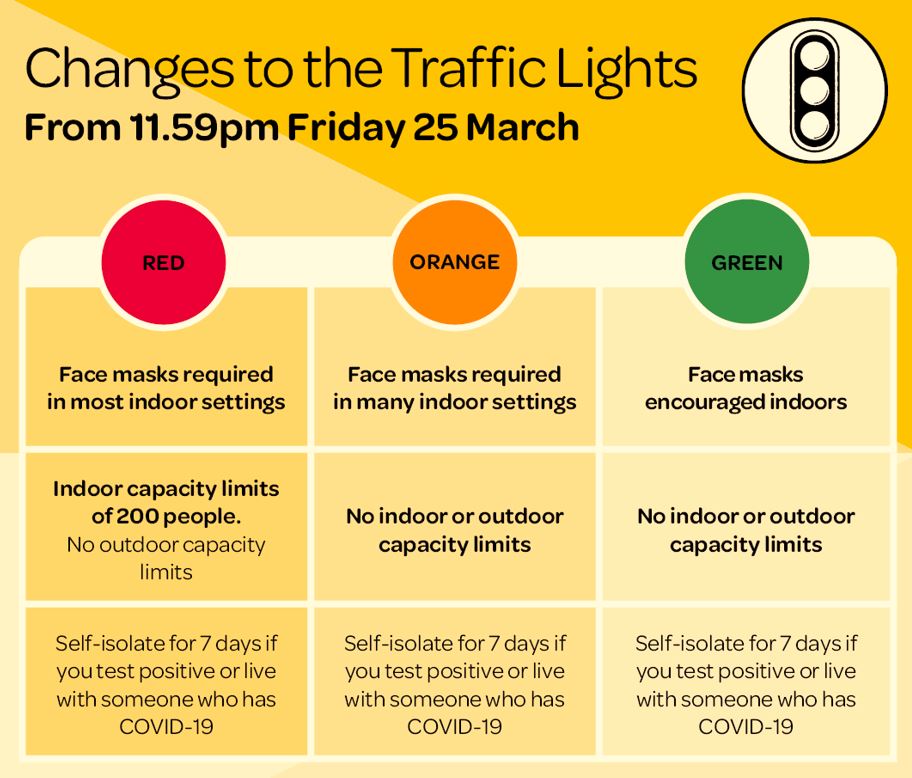 Prime Minister Jacinda Ardern
"The evidence shows we are coming off the Omicron peak with cases in Auckland having already declined significantly, and a decline expected nationally by early April.
"To date we've had more than 500,000 reported cases of Covid-19 and expert modellers say there have probably been 1.7 million actual infections. That figure, coupled with 95% of New Zealanders being fully vaccinated, means we now have a high level of collective immunity.
"New Zealanders have worked incredibly hard to get through this pandemic and as a result of those efforts we are now in a position to move forward and change the way we do things."
National Covid-19 Response spokesperson Chris Bishop
"The end of the vaccine pass system does call into question the relevancy of the Government's Traffic Light Framework, which has vaccine passes at its heart.
"The Government would be better to ditch the whole thing and create some simple rules around masks and perhaps venue limits, rather than persist with a complicated colour-code system that has never been used properly and that barely anyone understands.
"While today's mandate announcements are positive, the Government should also signal a timeline for abolishing the remaining mandates."
Green Party Covid-19 Response spokesperson Teanau Tuiono
"The Green Party does not support changes to Covid protection measures...
"The Green Party is calling for much stronger baseline protections to keep people safe from Omicron, as well as additional protections for spikes in infections and any new variants.
"The Green Party calls on the Government to act right now to:
"Rollout a school-based vaccination programme to ensure high and equitable vaccine coverage among eligible children
"Work alongside Māori and Pasifika leadership to achieve high equity in vaccine coverage
"Provide free N95 masks or equivalent for everyone, starting in schools for both children and teachers, as children will be at greater risk from the removal of vaccine mandates."
ACT Leader David Seymour
"Waiting until 5 April for vaccine passes and mandates to go makes no sense. They should go immediately...
"ACT has always said people should have been able to undergo regular testing as an alternative.
"A gathering limit of 200 with seating rules still in place will be little relief for the hospitality sector. This is just more control from Government.
"There are parts of the announcement we do welcome. Outdoor gathering limits don't make sense. We're pleased to see the back of them. QR codes also no longer make sense, they should go immediately, why are we waiting until the weekend?"