Revamped Three Waters to create 10 water management entities in an effort to give local governments more influence over massive infrastructure upgrades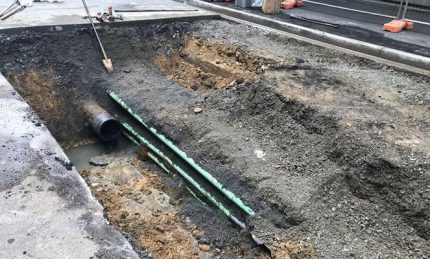 Following criticism and feedback from local government of its Three Waters policy, the Government now plans to establish 10 new regionally led entities instead of four. 
Local Government Minister, Kieran McAnulty, made the announcement in Greytown, Wairarapa on Thursday morning. 
He said he'd worked closely with local government leaders over the past few months to find ways to progress the "long overdue water infrastructure reforms".
"The feedback has been overwhelmingly clear that our water infrastructure deficit needs to be addressed now if we're to save households from ballooning bills that will make water unaffordable. But also that the reform programme must be led at a regional level - we have listened closely and absolutely agree," McAnulty said. 
Extending the number of publicly owned water entities to 10 will give every district council representation over their local water services entities. These entities would be jointly-owned by the councils in each of the 10 regions and would be governed by a professional board.
Credit rating agencies will consider these entities to be independent from local governments provided no individual council had a "very significant or controlling interest". 
This is important for getting the water assets off council balance sheets which will allow the entities to borrow significant sums of money with central government backing.  
Local communities will have influence over the 10 entities through regional representative groups, which will be a partnership between the councils and iwi. 
The group would provide strategic oversight and direction, but play no role in day-to-day operations of the entities. Its main responsibility would be appointing a professional board to independently govern each of the water services entities.
Controversy to remain
The policy change allows for local government to have more say in water management but doesn't address the two most contentious issues: Māori co-governance and water assets being removed from council balance sheets. 
Ardent opponents of the reform have described co-governance as a sort of "racism" and balance sheet separation as "theft." 
Prime Minister Chris Hipkins handed the local government portfolio to McAnulty in January and tasked him with delivering a new version of Three Waters, which has been rebranded as "affordable water reforms".  
On Monday, Hikpins told reporters the new name was necessary as the old one had become "confused" and overly-politicized. 
"Fundamentally, it's about water infrastructure and it's about making sure that we're dealing with the country's water infrastructure deficit. Let's call it what it is; it's about making sure we have affordable water infrastructure improvements."
"There is a massive bill coming down the pipeline, if you'll excuse the pun, in terms of upgrading our water infrastructure. That's what these reforms are about."
McAnulty said the cost of needed infrastructure upgrades was projected to be up to $185 billion over the next 30 years, something local councils cannot afford and would require rates to increase significantly. 
"Leaving councils to deal with this themselves will lead to unaffordable rate rises. It would be setting councils up to fail and I can't in good conscience do that". 
The proposed reform will save households somewhere between $2,770 and $5,400 in annual rates by 2054, on average, the Government says. 
National Party Local Government spokesperson Simon Watts said rebranding Three Waters wouldn't fix New Zealand's water infrastructure.
"The message from Kiwis is very clear – they want local water assets in local hands, and with no divisive co-governance structures imposed on them," he said in a statement.
New Zealanders don't care about the number of entities, rather they care about retaining ownership and control. The rejigged proposal still shifts ownership away from local councils. 
"National will restore council ownership and control, but with stronger central government oversight, including strict rules for water quality and for investment in infrastructure, so Kiwis don't have to worry about sewage on their streets, un-swimmable beaches, or having to boil their drinking water". 
Credit rating agency S&P Global Ratings said there would be "winners and losers" under the Three Waters reforms in a report published in February. 
"For some local councils, no longer having to manage and pay for drinking water, stormwater, and wastewater infrastructure will lighten the debt load.
For others, handing control to four publicly owned "water service entities" or WSEs may crimp operating margins and increase debt-to-operating ratios". 
The report said all parties agreed that New Zealand water infrastructure wasn't "up to scratch" although politicians "haggle over the way to fix the situation". 
National has proposed forcing councils to set aside money for water infrastructure, instead of spending it on other services, allowing them to retain direct ownership.
The Taxpayers' Union, a small government pressure group that has opposed the reforms, said increasing the number of entities "misses the point" critics have been making.
"Forcibly removing assets from councils undermines the property rights of the ratepayers who have funded them over many decades," said campaigns manager, Callum Purves.
Reform was necessary to finance future upgrades, but could be done by giving councils a cut of GST on new developments or allowing water delivery bodies to issue revenue bonds.