Public Policy
/
opinion
Murray Grimwood assesses a recent Victoria University debate that pitted green growth against degrowth & sees difficult times ahead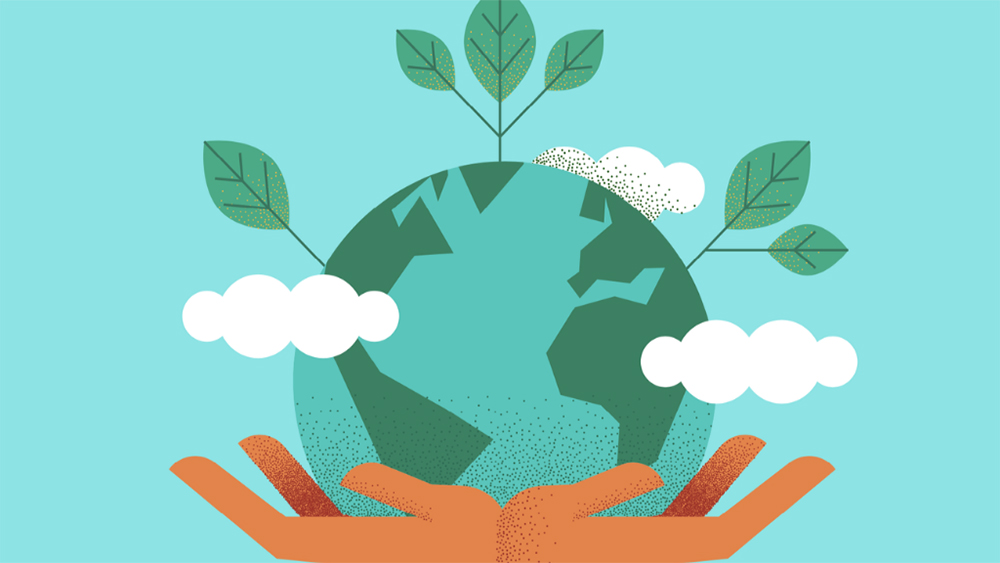 By Murray Grimwood*
Inevitably, this is once-over-lightly. A free textbook delves deeper.
A recent Victoria University event debated 'green growth' versus degrowth. Treasury are slowly getting their heads around the whole to-grow-or-not debate. (The Q&As are illuminating). RNZ's Nine to Noon tackled it (May 15).  
There is now an Non-Government Organisation called Degrowth Aotearoa and globally we are starting to see the likes of this. 
The debate as to whether growth – green or otherwise - can be had, or whether we need to reverse it urgently, is well and truly happening. The sequential questions are: How long can global growth (of production and consumption) continue? Will the peak be felt evenly? Can green growth displace current growth? And finally: What happens when degrowth – inevitably - sets in? Let us logic-step our way through the issue(s): 
Growth
Economic growth - the increase of production and consumption – has been positive and exponential, for the last 200 years. But the process of exponentially increasing the rate at which we extract materials from a finite planet (there being no other source of producible/consumable materials) obviously ceases with exponential suddenness. While some are claiming a 'decoupling' of GDP from physical extraction in first-world countries, there is no evidence that this holds globally (offshoring being one conveniently-ignored factor). Some claim we can replace fossil energy with 'renewable', and keep on keeping on. 
Exponential growth is tracked by its 'doubling time'. Doubling is a powerful thing; the next increment is equal to the sum of all those doublings which went before. Typically the graph rumbles along for a while, turns upwards, and shoots for the moon (at which stage, it hasn't long to go. If based on something physical within a Bounded System, exponential growth WILL cease; an event which even multiple substitutions can merely delay. That cessation will come at a time when the activity – the demand - has never been 'bigger'.  
Degrowth can also be exponential – particularly if based on ever-more scattered, ever-less-quality resources which are – or were until they weren't - being hoed-into at some doubling-time rate. In both cases, up and down, exponential growth harbours the capacity to surprise; it appears that the majority of us relate to a status-quo; a permanence; a norm. Few keep a running brief on rates of change; even fewer examine the Limits to the system as a whole, yet rates of change and outright Limits are the only game in town.   
Decoupling – or not – from the physical planet.
As stated, everything we purchase can be described as a processed part of the planet. Every move done to a planetary part - extract, process, distribute, consume, discard – requires energy, the vast majority of which we also extract, process, distribute, consume and discard. Where it gets murky, is when we hold planetary-part-and-energy proxy for a period of time or inject proxy into the system, also when we pass unreconciled proxy-parcels around; the assumption is always that the proxy can be cashed-in for something extracted; something tangible, anytime we choose in the future.  
 For 200 years, we have run that system and gotten away with it – with the occasional hiccup. There were still few enough of us; our extraction-rate was still low enough; there was enough planet still remaining and there was enough quality energy remaining. Local shortages – often created by dominant-country (and latterly dominant-corporate) insistence, created angsts and wars. There were booms and busts. This time, though, we are running the doubling-time-within-limits experiment at global scale, and are – unsurprisingly - running into multiple concurrent Limits. A new word nicely identifies this compound dilemma; Polycrisis.    
By ignoring the facts and concocting a self-justifying narrative – that Growth can go forever, therefore we can rely on the future to pay for our current overreach – we have painted ourselves into a corner; led by a discipline which measures neither floors nor walls. And - to prolong a tenuous analogy – there has never been more area covered in peeling paint than now, the tin is half-empty, and the brush? Well, it's seen better days.  
We seem to be very good at blaming others, rather than our collective selves; perhaps this is the inevitable knock-on from telling ourselves a false narrative in the first place. Thus we get clamoring for the Board of Kiwirail to resign because their ships are demonstrating entropy – rather than admit that we, collectively, don't want (can't afford?) to pay more for a crossing. Thus we get clamoring to investigate/sack/diss KPMG – rather than admit that by its very design, levered banking is always incapable of holding off the ultimate 'run'. Thus we get folk clamoring for a change of Government/PM/rules – rather than admit that the whole social construct is running into hard limits.  
These two graphics have been seen before, but need referring-to here. The first denotes the inputs and outputs (the walls, floor, paint-pot and brush) which economics is apparently blind to: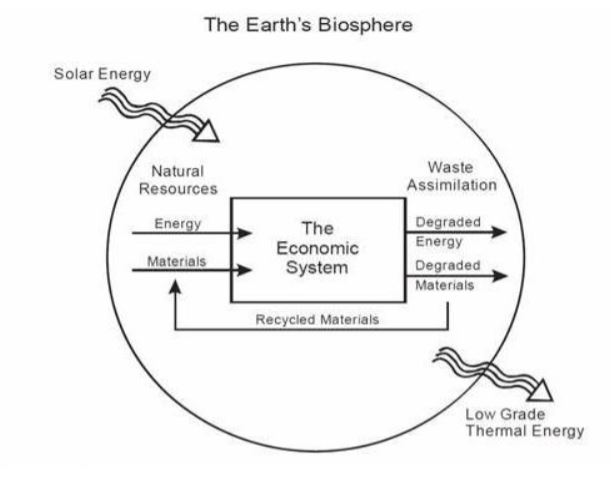 The second is what it looks like when things are on a downward exponential curve; 85% (and arguably more) of the energy we use, is in this graph: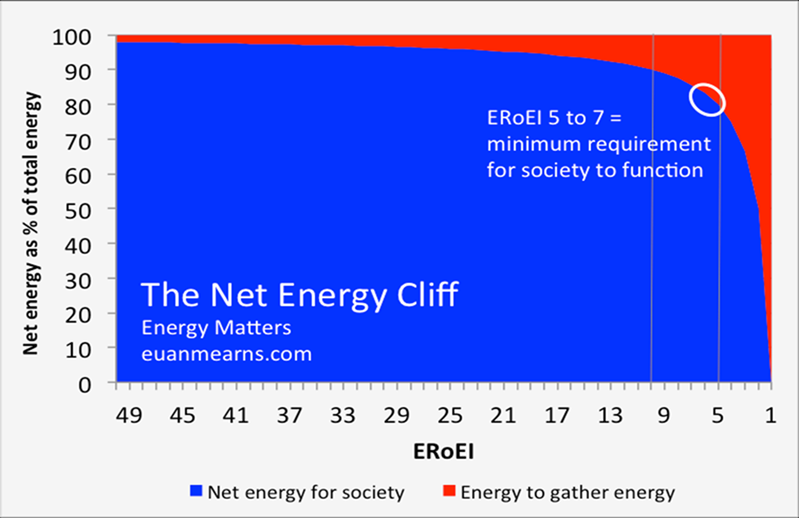 This failure to account in physics terms, was demonstrated by Peter Nunns – an economist – at that recent Victoria University event. 'Solar panels are getting cheaper', he parroted (I heard the same claim from Steven Chu a decade earlier, at Otago Uni). If that is the case, we must be valuing things wrongly. The Mearns graphic says so; the Herrington/KPMG/Limits thesis -  says so too, as does Chapter 2 of the textbook linked above.
Either we are failing to ascertain resource limits or we are failing to link dollars to reality by issuing too many of them, or both (I think we are and we are; that it's both). And we can add: Also avoiding the fact that manufacturing has been offshored to the closest-to-slave-labour we can find, coupled with the laxest environmental regulations ditto – both often orchestrated by agents acting on our behalf.  
Nunns also seems not to buy the physics underlying the Mearns graph (reducing EROEI). I might suggest he try an experiment; reduce his own Energy Invested, and see what happens. I'll tell you in advance – he'll do less. Taken further, he'll waste away, and eventually die. Probably still rubbishing EROEI, although we might have trouble hearing him towards the end. I find it scary that he – and Alan Bollard, who was originally scheduled to partake; we can only guess why he withdrew! – are part of the Infrastructure Commission. It has to make physical decisions which our grandchildren will wear the consequences of. Not economic, note – that's purely an artificial human construct – but physical. So far, I'm not convinced they have the expertise.  
A pin on the curve 
What could possibly go wrong? Too many houses, too stacked and too crammed-together; too much energy-dependent infrastructure, no allowance for entropy, nor an anticipation that entropy plus reduced energy and materials, must result in triage. And if you can't conceptualise that triage in the first place, how can you be expected to contemplate degrowth conforming to a doubling-time? Or include what you've spent a professional career calling 'externalities'? It is hard to know whether to put effort into challenging these folk; events are already overtaking the debate and rendering it increasingly obsolete. The problem is that while the Growth-forever narrative has oxygen, we are building for yesterday.  
The point of the Mearns graph, is that we have to put a pin on the curve and say: 'Here we can hold'. Placing the pin too high, renders much of what gets built – or kept – unmaintainable (there is no 'too low'; you can always ease 'up'). Unfortunately our short-term selfishness, coupled with propaganda (advertising, spin, lobbying) has us refusing to acknowledge the graph, let alone place a pin on it. We should ask ourselves simple questions, with a simple caveat. The simple questions are: Can this (road, pipeline, manufacturing process, farming practice, business, suburb, city) be maintained beyond access to fossil energy? The caveat – and it is important to adhere to this – is: Given PROVEN alternatives. Not wishful thinking, not lab-scaled, not making incorrect assumptions about energy-flow (think: hydrogen); PROVEN. 
Same-scale alternatives to fossil energy? There aren't any; nobody has built a hydro dam, a power grid, a nuclear plant or a Nissan Leaf, without massive use of fossil energy. We will never see a solar panel providing enough energy to manufacture a solar panel – irrespective of cost (if cost outranked energy-physics, we could pay someone enough to run the 100 metres in three seconds; it'll never happen and the why? of that, applies to everything). It is time we faced a simple fact; the reason we aren't leaving fossil energy is because nothing else comes near to matching it. And it's time we faced another: that we've burnt our way though the best half of the fossil resource. The next doubling of production and consumption – whether that growth attempt be Green or Brown – would demand a near-doubled supply of equivalent-quality energy. It ain't gonna happen; the planet is already creaking at the seams (which is why we see so many who deny Growth limits, also denying anthropogenic forcing).  
While growth is exponential, extraction/processing/consumption/disposal is a linear sequence. Curtail the energy available, and that linearity assumes importance; you cannot consume that which has not been extracted. Thus, a reducing real energy-supply is going to produce some interesting feed-back loops. Energy extraction comes first; energy production second (they are often confused, but are not the same thing); resource extraction third, and so on. The limit to capex-ing for those front-end items, is what the back-end items can 'pay'; which is in turn tied to the EROEI of the extracted energy (to do the work to produce something to do the repaying). I suggest we are already seeing multiple indications that society can no longer 'afford' itself; the back end cannot pay what the front-end needs for the next go-around. How we reconcile the growing gap – inflation, forgiveness or collapse – is an interesting question? 
Mention should be made of efficiencies – called 'productivity gains' in economic-speak. The Laws of Thermodynamics are very clear; efficiencies are limited and a trend of reducing returns is inevitable. Carnot, Watt, Soddy and Georgescu-Roegen understood this, various long times ago; it's a great pity a whole discipline is still puzzled as to why 'productivity' has plateaued; to anyone who has bothered to ask why vehicles have radiators, it's obvious.   
Parasitism will reduce 
Most of us are parasites on the energy-driven extraction-to-disposal sequence; society could specialise only because of the massive amount of energy temporarily available. A percentage of us were nothing but rentiers upon the flow; for instance a landlord is only connected to it via their tenant's income (not by capital gain, that's zero-sum in physical terms) or if the tenant is also parasitic, then there will be a further link – or more. Remember the banks are parasitic upon the whole, and we are already seeing resentment against them and the big corporate 'consultants'. Even those of us who write are parasitic (in terms of that particular activity; growing our own food or firewood, of course, is not). I anticipate an increasing societal inability to support parasitic activities, coupled by growing resentments, but resisted by calls for regulation-removal.  
Narratives will be increasingly incorrect 
There are a cohort who think they're winning under the existing system, who will argue for its continuance in the face of mounting evidence that continuance cannot be had. Another cohort think we can solve overpopulation by educating women – missing the point that the too-many are already here. Still another thinks that we can continue, but in a Green manner (we can't, not at this rate of consumption, at least). Others have constructed narratives which address via avoidance; the Rainbow community, for instance, have one common denominator; a reduced focus on human reproduction.
Unsurprisingly, during overshoot, the imperative to reproduce is absent and the opportunities to nest-build are out of reach for an increasing many. They're concocting self-narratives which make them feel worthwhile, but which fit with the overshoot (there is much rainbow-supporting media, but few – no? - journalists are pointing out that correlation). Others point to a past progress – in health, technology, knowledge – and insist that progress will continue (they should perhaps ask why we cease growing in our 20s?).
As our social fabric disintegrates, polarization, dissing, talking-past and otherising are on the increase. So too, are spin and outright disinformation – including the unwitting media again; expounding growth and externalizing-economics as givens (Radio New Zealand is a recidivist culprit in that regard). We need this diffusion to be reconciled, but I doubt it will happen, on the basis that if were going to have gotten our shyte together, we'd have done so already.  
Oh – and if there is no like-for-like substitute for the fossil energy we're half-way through, that leaves us one doubling-time left. If you can call the shakily-downward-trending mix of entropy, confrontation and curtailment found under the right-hand-side of a Gaussian curve, a 'doubling'. The Degrowthers are right; we will degrow. They are also right, in that going there in as controlled a manner as possible, is better than hitting the wall while attempting to double our speed.  
*There will be the usual knocking comments, but what would be useful at this juncture, is for a Bollard or a Carr or a CSA – preferably all three – to read the textbook linked at the beginning, and have the bravery to address the issues it raises. To say honestly: 'My brief is inappropriate; given what is ahead, it needs to be widened'.
*Murray Grimwood comments on interest.co.nz as powerdownkiwi.