Finance Minister Grant Robertson backs the RBNZ, as its latest critic labels it 'obsessively autarkic, nationalistic and excessively defensive' and calls for the Government to pull it in line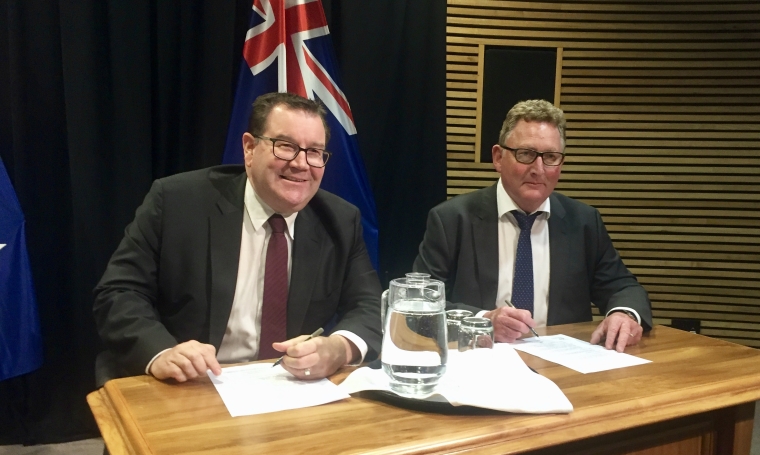 Finance Minister Grant Robertson is standing behind the Reserve Bank (RBNZ) as it continues to be bombarded with criticism over the way it regulates banks and insurers.
Australian investors were last week given a new platform to whinge about the RBNZ, as Prime Minister Jacinda Ardern made a high-profile visit to Australia just as AMP announced the RBNZ had blocked the A$3.3 billion sale of its life insurance arm.
Many in the business community have already been vocal in their opposition to the RBNZ's proposal to require banks to hold more capital - a requirement that would ultimately weigh on bank profits.
While a defensive RBNZ pointed out the fact AMP Life's prospective buyer, Resolution Life, only lodged an application with it in June - eight months after the proposed deal was announced - the blocked sale still wiped more than NZ$1 billion off AMP's share market value.
Headlines in Australian media included: 'AMP caught in Kiwi distrust of APRA', and 'Shock and Orr, Kiwi-style. Investors beware:Reserve Bank of New Zealand governor Adrian Orr has been visiting Australia to do a few 'things''.
'Obsessively autarkic, nationalistic and excessively defensive' label 'unfair'
However on Tuesday, a Wellington-based consultant who does work for KPMG, the IMF and World Bank, among other international institutions (and has previously worked for the RBNZ, Australian Prudential Regulation Authority (APRA), and various banks and insurers), not only had a crack at the RBNZ, but also the Government for not pulling the RBNZ "into line".
Geof Mortlock, in an opinion piece published in The Australian Financial Review, said that since the mid-2000s the RBNZ has "deliberately pursued an obsessively autarkic, nationalistic and excessively defensive approach towards regulation, supervision and bank resolution".
"It has, in effect, sought to draw a financial moat around NZ, and designed regulatory and resolution arrangements on the basis of a misplaced mistrust of how the Australian authorities would deal with a financial crisis affecting NZ."
Put to Robertson, he said: "I think the Reserve Bank's got a job to do as the regulator and part of that is making sure our banking system is safe and secure…
"I don't think that's a fair statement about the Bank. There'll obviously be some debate about the capital requirements - that's why there's a consultation process. But I don't think that's fair."
'We want the RBNZ to stand up for the integrity of our banking system'
Speaking to interest.co.nz, Mortlock said the AMP case was an example of how the RBNZ and APRA should've coordinated on how capital was allocated, how risks were managed and assets ringfenced.
However Robertson said: "I don't think there are that big a-differences between the approaches that are being taken [by the RBNZ and APRA]."
He noted there had been some "particular issues" with the AMP transaction, recognising the late stage in the game Resolution Life formally lodged its application to the RBNZ.
"But clearly, we want the RBNZ to stand up for the integrity of our banking system," Robertson said.
"There will be the odd difference here and there, but that's more around matters of the process for that transaction, rather than any substantive difference between the RBNZ and APRA."
The RBNZ blocked the sale because Resolution Life wouldn't agree to ringfence assets in New Zealand to protect New Zealand policyholders.
While AMP Life isn't currently required to do this, the RBNZ said the business would operate very differently under Resolution Life, so the same conditions shouldn't apply.
"AMP Life would no longer accept new business, and the scale of its business would substantially shrink over time. Existing life policies would be 'run-off' to expiry over a period of some decades," the RBNZ explained, also noting it had worked very closely with APRA.  
Mortlock accepted the RBNZ and APRA wouldn't always share the same views.
"And I don't for a moment argue that the RBNZ should be following the dictates of APRA," he said.
"My main argument is really the need in the capital space and in the bank recovery and resolution area, for a very much closer coordination so that we can avoid over-the-top capital burdens that could hurt our own country and that we don't go down the road of an isolationist, autarky approach."
Independence of reviews questioned
Mortlock also raised concerns over the RBNZ overseeing its bank capital review as well as its Insurance Prudential Supervision Act review, which deals with capital requirements and matters raised by the AMP case around how the RBNZ should protect New Zealand policyholders when their insurers are domiciled overseas.
He said there was a conflict of interest, as the RBNZ was only looking at matters from one angle - that of a regulator.
Robertson responded: "The bank capital isn't a review of themselves. That's actually a review of what is needed to keep our banking system safe."
While he didn't address the insurance matter, he pointed out how Treasury was overseeing the review of the Reserve Bank Act, which outlines the RBNZ's powers when it comes to setting monetary policy and regulating banks and insurers.
"I feel very confident that we've got the ability to look at their actions from the outside," he said.
"I'm confident that with Phase 2 of the Reserve Bank Act Review we've got sufficient independence."
*This article was first published in our email for paying subscribers. See here for more details and how to subscribe.